Healthy Neftali Feliz a decent bet for Comeback Player of the Year
I was already on board with Neftali Feliz as a great Comeback Player of the Year candidate. Now word comes that he's back up to 98 miles per hour with his fastball.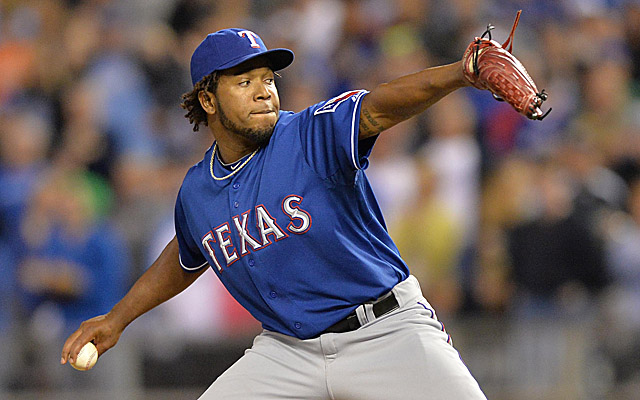 MORE: FA tracker: position players | FA tracker: pitchers
Confession: I've already done my 2014 season predictions.
Well, I shouldn't use the word "done." They are a work in progress in that I'll be constantly tweaking as we move closer to the season and the remaining free agents sign -- not to mention the injuries we'll encounter in addition to countless mind-changes by yours truly. I have filled them into a document on a computer, which is the 21st century equivalent of "writing them in pencil."
I will reveal one selection I entered last week that was further strengthened in my mind by a story from this week. Hint: It's in the headline.
Yes, my AL pick for Comeback Player of the Year is Rangers pitcher Neftali Feliz.
Unlike the MVP, Cy Young, Rookie of the Year and Manager of the Year awards, the Comeback Player of the Year isn't decided by the BBWAA. The 30 beat writers (one per team) of MLB.com are the voters. The main portion of the criteria is that the award should go to one player from each league who has best "re-emerged on the baseball field during a given season."
So it doesn't have to be someone who is returning from injury. It could just be a player bouncing back from a dreadful season (Josh Hamilton may be a candidate in the eyes of some, for example).
Feliz is my horse here.
After being one of the better closers in baseball in 2010-11, Feliz was moved into the rotation for the 2012 season and ended up tearing the UCL in his throwing elbow -- which required Tommy John surgery to repair.
He returned last September and threw 4 2/3 scoreless innings out of the bullpen for the Rangers and is expected to compete for the closer this job this season.
To loyal baseball fans, the above two paragraphs aren't news. But this is:
"My arm is perfect. When I threw in winter ball, my command was perfect. I've tried to work hard to be ready to do my job as closer and go to the playoffs this year."
That's Feliz (star-telegram.com), discussing how he felt in the Dominican Winter League this offseason.
OK, OK, of course a pitcher coming off injury who is now healthy is going to talk about how awesome he feels heading into spring training. We all know that, but there's more. Feliz struck out 11 in 9 2/3 innings in that league and his fastball, per that above linked star-telegram.com article, was clocked at 98 on the second day of back-to-back outings.
That's pretty encouraging.
Feliz averaged 95.86 miles per hour on his heater in 2009, 96.21 mph in 2010 and 96.28 mph in 2011. After his return last season, his fastball average was down at 93.58 mph. (Source: Brooksbaseball.net)
So he should be right back where he left off as a closer with the fastball velocity. A piece of the puzzle, sure, but that's the first one. He already said his command is fine, too. Team that with his track record and the knowledge that the Rangers project to once again have a pretty solid defense behind their pitchers and we have a good combination here. To reiterate, I'm not picking Feliz because of the above information on his velocity and (self-professed) great command. I already was picking him. He's a great bet to bounce back. I'm simply saying that this info made me more confident.
It won't be an easy road for Feliz, that's for sure. He's still not too far off from Tommy John surgery and he will need to reverse the trend of his walk rate (2.3 BB/9 in 2010; 4.3 BB/9 in 2011; 4.9 BB/9 in 2012) in order to get back to the level of elite closer, like in 2010, and that's assuming he's able to win the job out of spring training.
In order to secure the Comeback Player award he must accomplish the latter. As for the former? I don't think Feliz has to be a Craig Kimbrel-level closer to win. An ERA around 3.00 with a respectable strikeout rate (8.5 K/9?) and a WHIP around 1.15 should get him over 30 saves, rather easily, with the Rangers. That will be good enough for the win.
Neftali Feliz, 2014 AL Comeback Player of the Year? Yes, that's the way-too-early pick here.
The process for determining home-field advantage in the World Series is different in 2017

The Yankees will have to close out the series on the road

Let's update each team's chances of winning the World Series
Puig has a healthy relationship with his club of choice and gave the quote of the night

The Dodgers are back in the World Series thanks to a smartly built roster, analytics and m...

Seager missed the NLCS with a back injury