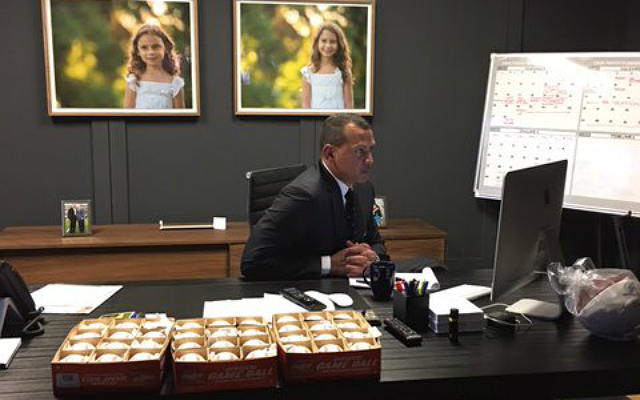 Yankees DH and future Comptroller of the Western World Alex Rodriguez recently made the following Twitter Decision ...
Just another day at ARod Corp - signing baseballs for fans and managing my inbox #OfficeLife pic.twitter.com/ppVIKAS5Fj

— Alex Rodriguez (@AROD) January 13, 2016
ARod Corp! He's wearing a suit at almost midnight, sitting at a desk, and possibly using his desktop monitor to survey The Numbers! ARod Corp! There's a whiteboard calendar involved!
As it turns out, the ARod Corporation already has a domain name and a fledgling web presence. Indeed, the logo found within that link matches up with this ...
Psyched to see these logo shirts arrive. What do you guys think? pic.twitter.com/b6ZlGYiMM4

— Alex Rodriguez (@AROD) January 13, 2016
Moisture-wicking business polos! They'll be worn by ARod Corp outside sales associates when they attend that seminar at the Ramada by the airport!
Also, please do know that when A-Rod decided to turn into a company, it was no sudden and capricious decision ...
That image, which comes to us via Business2Community.com, dates back to Sept. 2014, when A-Rod on LinkedIn -- the website that takes dreams and makes them commission-based -- appears to have announced himself as CEO of the ARod Corporation ... and our hearts. Oh, and let it be known that Dun & Bradstreet indeed have a listing for a Miami-based ARod Corporation.
In conclusion, here's A-Rod kissing himself all over a profit-and-loss statement ...
Now go forth and purchase something from the A-Rod family of products and services.