Looking back at 1981, the last time we saw Dodgers at Yankees
The Dodgers haven't played against the Yankees in New York since 1981. Here's a look at the world as it was in 1981.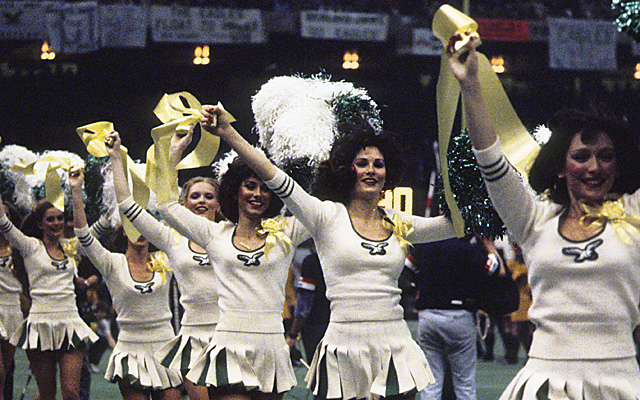 More MLB: Scoreboard | Standings | Probable Pitchers | Sortable Stats | Odds
The last time two of baseball's most storied franchises -- the Yankees and Dodgers -- faced each other in New York came in the 1981 World Series. So in honor of that matchup finally taking place beginning Tuesday, let's take a stroll back to 1981, both in terms of baseball and non-baseball stuff.
Born in 1981, baseball version: Carl Crawford, Curtis Granderson, Alex Rios, Ben Zobrist, Josh Hamilton, Brandon Phillips, Justin Morneau, Mike Napoli, Jake Peavy, Adam Wainwright, James Shields and Hisashi Iwakuma, among many others.
Born in 1981, non-baseball version: Natalie Portman, Hayden Christensen (Star Wars buddies!), Jessica Alba, Justin Timberlake, Tim Riggins Taylor Kitsch, Beyonce, Britney Spears, Alicia Keys, Eli Manning, Roger Federer, Serena Williams, Jessica Chastain, Charles Tillman, Troy Polamalu, Wes Welker, Anna Kournikova, Matt Schaub, Andre Johnson, Joe Johnson, Zach Randolph, Hope Solo, Clinton Portis, Ivanka Trump, Roddy White, Carlos Boozer, Philip Rivers and the Bush twins.
Back in 1981 ...
The average cost of a gallon of gas was $1.25.
The average cost of a new house was $78,200.
Ronald Reagan was sworn in for his first term as president.
Reagan and Pope John Paul II were both shot but survived. 
Lady Diana Spencer married Prince Charles. 
USA's biggest enemy was the Union of Soviet Socialist Republics.
We were only one year removed from the Miracle on Ice.
A station by the name of Music Television was launched. 
Metallica formed in October.
IBM launched its first personal computer, and it had MS DOS. It cost $1,565.
Post-it notes were invented.
Only two Rocky movies and two Superman had been released, but zero Back to the Future, Terminator or Die Hard movies had been.
Related: The first DeLorean was produced. 
The beer Bud Light had not yet been released.
The top grossing movie was Raiders of the Lost Ark.
Bette Davis Eyes by Kim Carnes was the top song, just beating out Endless Love by Diana Ross and Lionel Richie.
The top TV show was Dallas.
The AIDS virus was identified for the first time.
Muhammad Ali retired from boxing with a 55-5 record.
The first Motorola cell phone was developed. And it was huge.
The most popular toy was the Rubik's Cube. 
The classic video game Frogger was introduced.
After 19 years as host of CBS Evening News, Walter Cronkite retired.
The San Francisco 49ers had never been to the Super Bowl.
Michael Jordan began his freshman year at the University of North Carolina.
Wayne Gretzky led the NHL in points for only the second time.
Marcus Allen won the Heisman Trophy.
The NL MVP was Mike Schmidt, and the AL MVP was closer Rollie Fingers.
The Dodgers beat the Yankees in the World Series. And the Dodgers wouldn't go back to play the Yankees in New York until 2013.
There's no reason to run over the cases for and against Bonds, so let's have fun instead

The coveted right-hander would certainly be a fit in Milwaukee

We rate the best mustaches from random baseball cards because, why not?
Colon wants to break a Dennis Martinez record

The Twins have been rumored to be interested in Darvish all winter

Rolen is one of the best third basemen of all time, but you wouldn't know it based on this...