Mets' Thole not an All-Star, but his glove is
LOS ANGELES -- Mets catcher Josh Thole will not be going to next week's All-Star Game, but his catcher's glove is headed to Kansas City anyway. ...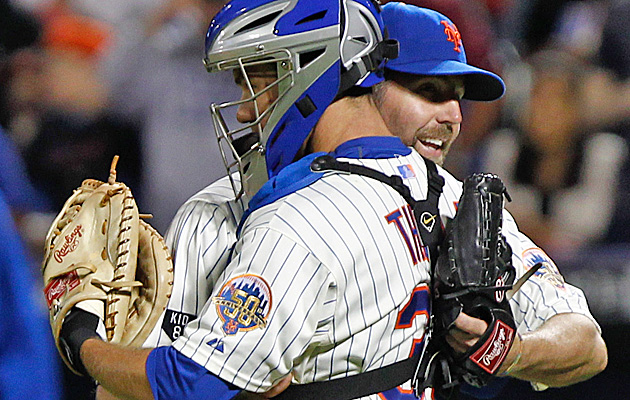 Thole uses a women's softball catcher's mitt to track Dickey's knuckle ball. (US Presswire)
LOS ANGELES -- Mets catcher Josh Thole will not be going to next week's All-Star Game, but his catcher's glove is headed to Kansas City, anyway.

It will be transported by R.A. Dickey, and offered for use to whichever catcher is lucky enough (or, stuck with no choice) catching his knuckleball.

"I'm going to send it with R.A.," Thole says. "If Yadier (Molina) or Buster (Posey) choose to use it, it's up to them. My advice would be, yes.

"But some guys aren't comfortable using someone else's glove."

Thole uses a Rawlings Spark women's softball catcher's mitt to track the knuckler when Dickey is on the mound.

"There are about four of them floating around," Thole said of the gloves and the Mets' clubhouse.

One, though, recently has been retired.

"The Black Lab," Thole says. "That's what we called it. It's old, old, old. The padding keeps falling out. I caught a couple of pitches near my ring finger the other day, and my finger swelled up to the size of a carrot. It hurt so bad."

As if the knuckleball isn't a unique enough pitch on its own, Dickey's is even more rare in that he throws it at up to 80 m.p.h.

Likes: The Angels' Mike Trout, All-Star. ... Jake Peavy donating $100 for every strikeout Saturday to charity in memory of his close pal, the late Padres bullpen coach Darrell Akerfelds. ... The Fourth of July. ... This Ted movie sounds like it's got great possibilities. ... Gaslight Anthem on the Late Show with David Letterman the other night. ... The new live Jimmy Buffett CD & DVD package Welcome to Fin City. The DVD has a couple of gems in Zac Brown's Knee Deep and Mac MacAnally's Back Where I Come From. The vastly underated Life Is Just a Tire Swing and Bama Breeze are on both. ... Old episodes of The Wonder Years on Instant Netflix. What a great show, and it still holds up very well.

Dislikes: No Brandon Phillips or Johnny Cueto on the All-Star team? For shame. ... Ben & Jerry's Greek Frozen Yogurt. I'm a big fan of pretty much anything Ben & Jerry do -- they'd probably make Broccoli Ice Cream incredibly delicious -- but their Greek Frozen Yogurt falls flat. ... All of you folks who are living in areas with searing heat and violent storms, take good care of yourselves.

Rock 'n' Roll Lyric of the Day:

"Stacy, do you remember when I mowed your lawn?
"Your mom came out with just a towel on
"I could tell she liked me from the way she stared
"And the way she said, 'You missed a spot over there'"

-- Fountains of Wayne, Stacy's Mom
They're alive in the NLCS after their Game 4 win over the Dodgers

You never know what you might get from Arrieta, but what we got was brilliance in Game 4

The 2017 World Series begins Oct. 24
There will be a Game 5 after all on Thursday night

Tanaka shut the Astros down in ALCS Game 5 and has overcome a down season and past injurie...

The Yankees wouldn't chase Keuchel's bread-and-butter, those tempting pitches just at the knees...