Quentin suspended amid ugly history with Greinke
There absolutely is history between Carlos Quentin and Zack Greinke, four years' worth of simmering rage on Quentin's part and who-knows-what going on inside of Greinke's head. And when it spilled over Thursday night in an ugly Dodgers-Padres game, it changed the NL West early.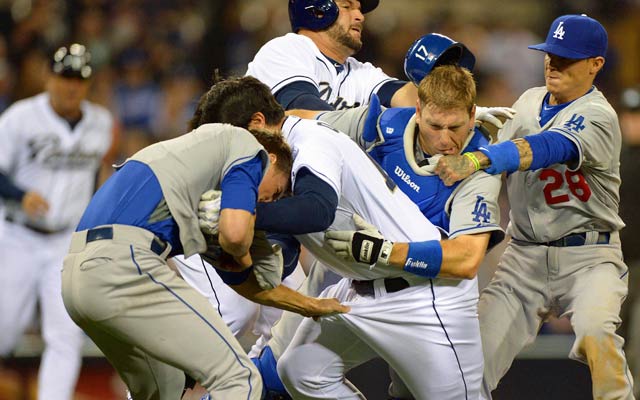 SAN DIEGO -- There absolutely is history between Carlos Quentin and Zack Greinke, four years' worth of simmering rage on Quentin's part and who-knows-what going on inside Greinke's head.
But no matter the vendetta, Quentin was the epitome of me-first selfish to drag the Padres into a fight they didn't start and never should have been involved with.
Already trying to stay afloat without their injured MVP, Chase Headley, now the weak-hitting Padres are staring at hard time without their most dangerous hitter.
Quentin has been suspended for eight games, pending appeal. Jerry Hairston Jr. got a one-game suspension. The jury is still out on Matt Kemp, according to sources, who could still face disciplinary action via suspension or fine. Greinke will walk. If you can call a broken collarbone and an expected absence of two months that.
So Thursday Night at the Fights will put a big hurt on two of the five NL West teams for the foreseeable future.
And how it got to this point is simply staggering, a motley collection of machismo, disrespect, anger, history and well-aimed or misplaced fastballs.
Take your pick.
Quentin remembers a fastball over his head in April, 2009, on the very pitch before Greinke drilled him in the shoulder and "if I don't put my shoulder in the way, it hits me in the face."
It did not hit him in the face.
That is the genesis of Thursday night's charge to the mound, but not the entirety of it.
According to sources, Quentin on multiple occasions since has sent emissaries to quiz Greinke and ask for explanations as to why Greinke was throwing at Quentin (he also hit Quentin once in 2008). He never got an answer, which apparently has only shortened his fuse.
Standing in front of his locker with two very visible scrapes on his forehead, Quentin essentially confirmed this during a testy nine-minute session with reporters Friday afternoon.
"It's been over three years," Quentin said. "A lot of that could have been resolved in that amount of time. I was very open to a resolution. I believe you can ask Zack about that."
So Quentin has not able to reach Greinke and get answers.
"Never," he said. "And that's disappointing."
With the White Sox in 2009 when Greinke hit him for a second time (and the last time before this week), Quentin made his intentions clear, according to several tweets from Ozzie Guillen's son, Oney, over the past 24 hours.
Ozzie Guillen was the manager during all four of Quentin's seasons with the White Sox, and Quentin essentially admitted to the threats exposed by Oney Guillen via Twitter.
"He knew what was going on, Zack did," Quentin said. "He was approached by teammates. His own teammates had spoken to me. All I would ask is for a resolution. I'm a person. I can be spoken to."
Greinke surely spoke to him from 60-feet, 6-inches on Thursday night, and not just by bouncing a fastball off of his shoulder.
By dropping his glove and saying something to Quentin -- the slugger said it was an expletive -- Greinke provoked the situation. Had he thrown his arms up in the air -- baseball-speak for, "Hey, it got away from me" -- maybe he could emerge blameless here. But that's not the case.
Quentin claims that had Greinke apologized, he would have simply moved along to first base.
"I would have had to," he said. "To go out there after that would be to try and instigate a point when one was not to be had."
So remove from your rational thought the fact that it was a one-run game and a full-count. At this point, Quentin was looking for an opening to get at Greinke.
"I understand baseball," he said, almost as if directly answering Kemp's postgame jab at his Stanford education. "I know the game. I know the situation of the game. I know the score. I know who's up. I've played this game long enough to know that.
"It's documented, you can see it on video, what I saw. There was an expletive. … That is the only reason. There's obviously a history there but at that point, because the game dictates how we act on that field. That was the tipping point."
Nevertheless, Quentin has to get a grip.
Here's a guy who has never played in more than 131 games in a season. He's played in as many as 118 only twice in eight years.
Not only do the Padres desperately need him on the field, for the three-year and $27 million extension they handed him last summer, it is Quentin's responsibility to stay on the field.
He discarded all of that in the snap of a temper.
Many Padres spoke about the emotion of a competitive situation and understood Quentin's reaction and emphasized that they have his back.
That's all well and good and understandable because that's what teams do.
But the other side of this remains that this was an extreme, selfish act to walk right into a sure suspension and abandon the best interests of his team.
"That's a fair question," Padres manager Bud Black admitted. "But our feelings about our 25-man roster … we're going to have to adjust when the suspension comes with major-league players.
"Hopefully, we'll be able to hold the fort until he comes back. This is something I don't think any of us ever understand, how a player feels in the batter's box in a situation like this."
Quentin expressed regret that Greinke was injured.
"I do have a lot of remorse that someone did get hurt," he said. "I will say and repeat that I felt I had to protect myself. What happened on that field was a result that could have been avoided.
"You know how many times I've been hit in my career. I've never once gone to the mound. If things were different I may have never gone to the mound. It's just a shame that the Dodgers' organization does not have one of their key members and someone got hurt."
Quentin led the National League in being hit by pitches last year (17) and the AL in 2011 (23). He's now been hit 116 times in his career.
This one was the ugliest. It spilled into the players' parking garage area postgame, when Kemp approached Quentin and the two had to be separated.
"I wouldn't say that he was out there waiting for me," Quentin said. "I believe that he was walking to the bus. He was enraged, obviously, with what had happened to his teammate. He wanted to approach me aggressively. I tried to explain to him and he did not want to listen. I'll leave it at that."
Quentin clearly was bothered. And he should be.
"I've been hit a lot of times in my career," he said. "I understand why I get hit. I understand that's how I approach hitting. I also understand that pitchers have to do their job and pitch. And like I said, I've never gone out there until last night. I've never felt that someone has thrown at me intentionally until what happened in 2009.
"And even last night I didn't go out there until I was provoked to go out there. And I think you can see that on the video. People will be villainized. I think you need to pay attention to what's right in front of your eyes."
CBS Sports HQ Daily Newsletter
Get the best highlights and stories - yeah, just the good stuff handpicked by our team to start your day.
Please check the opt-in box to acknowledge that you would like to subscribe.
Thanks for signing up!
Keep an eye on your inbox for the latest sports news.
Sorry!
There was an error processing your subscription.
It's reportedly a $5 million deal for the veteran utility man

Here's what buzzing around baseball on Tuesday

The South Siders can supercharge their rebuild this offseason
Mauer, who retired after the 2018 season, ranks third in WAR among all Twins in history

Sabathia was just two innings short of a performance bonus

Here's what buzzing around baseball on Monday