Rays get past Indians; don't be stunned if they beat Red Sox, too
After going from must-win to must-win and always winning, the Rays now get the Red Sox in the Division Series. Don't be surprised if they beat them.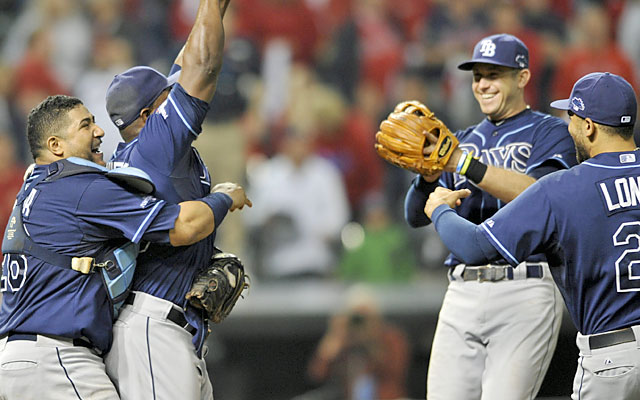 CLEVELAND -- The Red Sox had weeks to get ready. The Rays have less than 48 hours.
The Red Sox have spent the past few days relaxing at home. The Rays?
"Everybody needs some laundry done," Ben Zobrist said late Wednesday night.
He wasn't talking about his champagne-drenched T-shirt.
The Rays have gone from New York to Toronto to Texas to Cleveland, and now on to Boston after beating the Indians 4-0 in the American League wild-card game. They've gone from must-win game to must-win game to must-win game, and even though they've won, they've got to be exhausted.
"They can't kill us," Rays owner Stuart Sternberg said. "They just can't kill us."
The Blue Jays almost did, but couldn't. The Rangers couldn't. The Indians couldn't, not even with their 10-0 karma and their ballpark full of loud, red-clad fans.
But surely the Red Sox will. They won 97 games. They beat the Rays 12 times in their 19 meetings this year. They're happy, they're healthy, and they're a whole lot better than the Blue Jays, the Rangers and the Indians.
They might well be the best team in baseball right now.
And they might well not make it out of the Division Series, now that the Rays are their opponents.
I would love to tell you I'm predicting it, except that when the bosses demanded predictions at the beginning of this week, I told them the Rays wouldn't even beat the Indians, and that the Red Sox would get past the Indians in four games.
I wasn't alone. All six of us at CBSSports.com picked the Red Sox to advance past the first round (and my buddy Jon Heyman even picked the Sox to win it all).
But as the Rays stepped away from their traditional disco celebration (complete with champagne and silly string), one after another they expressed confidence that they can win this series.
Every team that gets to this point has confidence. The Indians had confidence.
But the Rays have that starting pitching to back it up. They had Cy Young winner David Price to throw against the Rangers on Monday (complete-game win). They had the underrated Alex Cobb to throw against the Indians on Wednesday (7 2/3 shutout innings).
Now they have Matt Moore on regular rest to face the Red Sox Friday -- followed by Price on regular rest Saturday, Cobb in Game 3, probably Chris Archer in Game 4 and then a choice between Moore and Price for Game 5, with both on full rest.
There's a reason that every Red Sox person I talked to over the last couple of weeks said the Rays were the team they least wanted to face. It's that pitching, and in particular that left-handed pitching.
The Red Sox did well against left-handed starters this season (going 32-22 in games started by lefties, as opposed to 65-43 in games started by right-handers), but good left-handers should still have an edge. Moore threw a two-hit shutout at Fenway in June, the last time he faced the Red Sox. Price allowed four runs in 24 1/3 innings in his three most recent starts against them.
"I know from talking to players across the league, the guys on the other side do not like facing our pitchers," Zobrist said. "We've made it through some tough days to get in the position we want to be in. It comes down to performances like Alex's [on Wednesday]."
It comes down to being able to identify, acquire and develop starting pitching, something the Rays still do better than anyone in the game. It's the biggest reason they can consistently overcome their low payrolls.
The Rays have weaknesses, for sure.
Their offense can be maddeningly inconsistent. The Rays and Red Sox were in a virtual tie atop the AL East with a week to go in August, but the Rays went 4-13 in a stretch where their offense produced just 2.6 runs a game.
The back of their bullpen can look distressingly shaky. The Rays almost threw away a seven-run lead last Sunday in Toronto, in a game that could have ended their season.
But Price gave the bullpen a night off with his complete game Monday, and when manager Joe Maddon called on his top relievers Wednesday, they looked refreshed. Joel Peralta and Jake McGee and Fernando Rodney got through the final seven outs without allowing the Indians to get anything started.
The Rays are ready for this. They've been in the postseason four times in the last six years, and even the guys who haven't been part of it (like Cobb) don't seem bothered by it.
And they have that pitching.
"We feel very confident about our pitchers against anyone, and we've done well," Maddon said. "Part of that is that our guys are used to pitching or playing in that venue, whether it's Yankee Stadium packed, Fenway Park packed, we kind of dig it."
The Rays even dug this week's great adventure.
"We've been in three cities and won three games," Moore said. "And now we're going to try to do the same in Boston."
Don't be surprised if they do.
The Astros are still in control of the series, but have been unable to solve Yankees pitch...

The Astros and Yankees will play Game 4 in the Bronx early Tuesday evening

Yankee Stadium helped, but there's more to it than that
Aaron Judge and CC Sabathia had big games

Judge had an impact on both sides of the ball in Game 3

Ausmus most recently managed the Tigers, but won't be headed to Queens