Red Sox's Jon Lester says he'll sign at discount to stay in Boston
If Red Sox lefty Jon Lester has his way, then he'll never hit free agency.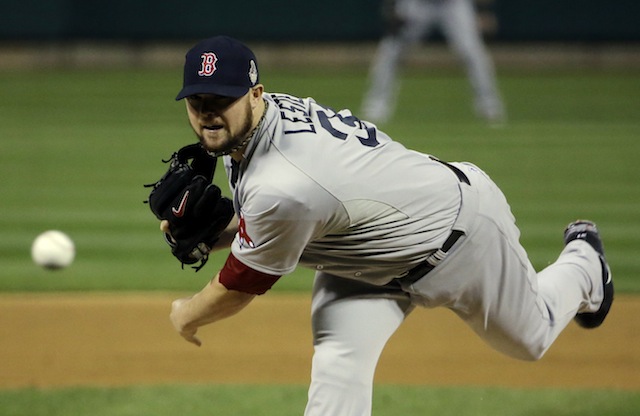 MORE: FA tracker: position players | FA tracker: pitchers
Red Sox lefty ace Jon Lester is in the final year of the six-year, $42.75 million contract he signed before the 2009 season; he'll be eligible for free agency next winter. To hear Lester tell it, though, he doesn't want to get to that point. 
There's been periodic talk about an extension with the Red Sox, and now Lester says he's willing to do his part to make it happen. Courtesy of Pete Abraham of the Boston Globe, here's what Lester had to say: 
"I understand to stay here you're not going to get a free agent deal. You're not going to do it. It's not possible. You're bidding against one team. I understand you're going to take a discount to stay.

"Do I want to do that? Absolutely. But just like [the Red Sox] want it to be fair for them, I want it to be fair for me and my family. If we can get to something in spring training, that would be awesome."
Lester, who turned 30 earlier this month, last season pitched to a 3.75 ERA, 109 ERA+ and 2.64 K/BB ratio in 213 1/3 innings for the champion Red Sox. For his career, the two-time All-Star owns an ERA+ of 117 across parts of eight big-league seasons, all with Boston. As well, Lester has career 2.11 ERA in 13 postseason appearances, 11 of which have been starts. 
Given Lester's value to the team and intent on staying in Boston, don't be surprised if something does indeed get done before Opening Day. 
Dioner Navarro still hopes to return someday

Christian Yelich's agent says his client's relationship with Marlins is 'irretrievably bro...

The free-agent market has been slow and one player is bracing for an even longer wait
The Mets didn't want to trade a young outfielder for an older one

Josh Harrison doesn't sound pleased Gerrit Cole and Andrew McCutchen have been traded away

The team's media contracts expire following the 2019 season