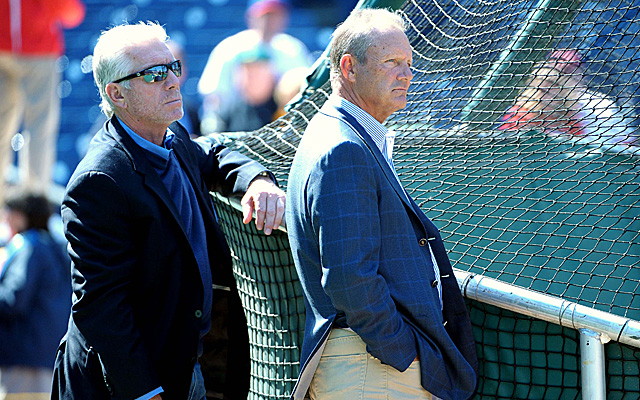 More MLB: Scoreboard | Standings | Probable Pitchers | Sortable Stats | Odds
The Kansas City Royals have hired George Brett as their interim hitting coach, the club announced Thursday.
Previous hitting coaches Jack Maloof and Andre David were reassigned to the minor leagues while Pedro Grifol will become a special assignment coach alongside Brett with the big-league club.
Wednesday, my colleague Danny Knobler wrote that manager Ned Yost's job isn't safe in the long run, but it isn't in immediate jeopardy. With that in mind and knowing how much Royals hitters have struggled all season -- particularly the younger hitters -- it's no surprise a change was made with the hitting coach position.
"Obviously, things have not gone as we would have expected and in light of the downturn in offensive production and poor results we've decided to make a change," said general manager Dayton Moore in a statement. "First of all, I can't thank Jack and Andre enough for accepting this challenge with the Major League club. They are both tremendously knowledgeable and hard working men who have already made our organization stronger by their work in the system. I'm thankful that this organization has one of the greatest hitters and more importantly one of the greatest competitors our game has ever seen in George Brett and he has accepted our offer to join the coaching staff on an interim basis. We've also added Pedro Grifol, who brings a wealth of knowledge to our staff and will work various aspects of the coaching staff."
The Royals offense to this point has severely lacked power. They've only hit 28 home runs in 50 games -- 29th in the majors, only one homer ahead of the Marlins -- and rank 14th in the AL in slugging percentage. Young players like Eric Hosmer and Mike Moustakas were once highly touted prospects, thought to be part of the nucleus that could help get Kansas City back to the postseason.
Hosmer is in his third season, and he's hitting .262/.323/.331 with just one homer. Moustakas is also in his third year, and he's hitting .187/.257/.313.
It's not just those two, as the Royals rank 13th in the AL in runs scored.
Just one day ago, now-former hitting coach Maloof was asked about the lack of power and misguidedly blamed Kauffman Stadium.
"There is just no reward here (for us) to try and hit home runs," Maloof said (foxsportskansascity.com). "We try to stay down on the ball, be more line-drive oriented, and do more situational hitting at least through the first two or three rounds (at home) here. That's why I'm not overly concerned because I think we'll lead the league in fewest home runs again this year."
That's an interesting comment, considering Kauffman Stadium ranks 12th right now among 30 ballparks in home run park factor (per ESPN.com). Royals' opponents have no issue hitting homers in Kauffman Stadium, as they've outhomered the Royals 32-11 in Kansas City.
Maloof had an answer for that, too.
"Here's the thing: Other teams come in here from Anaheim or wherever and they have their swing already down," Maloof said (foxsportskansascity.com). "This park doesn't even enter into their minds when they hit here. They have their swings, the same swings, because it pays dividends for them at home.
We don't know for sure if the comments were what ultimately caused Maloof to get fired, but they couldn't have helped. It seems rather obvious that every big-league player should have his swing be the same and the park should never factor in -- especially if there's no evidence that Kauffman Stadium prevents homers.
Overall, the Royals started the season 17-10 but have gone just 4-19 since. In that stretch, they've hit .249/.296/.350 as a team with an average of 3.4 runs per game.
Now it's up to Hall of Famer and Royals legend George Brett to help the young offense get things turned around.
Brett, 60, hit .305/.369/.487 with 665 doubles, 137 triples, 317 homers, 1,596 RBI and 1,583 runs in his 21-year career -- all of which came with Kansas City. The 13-time All-Star won three batting titles and an MVP. He was also the member of seven division winners, two pennant winners and one World Series champion in Kansas City.
Since Brett retired, the Royals have had two winning seasons and zero playoff berths.
Brett has been serving as the Royals vice president of baseball operations since he retired after the 1993 season and has done on-field instruction in spring training. The Royals have tried to get him to take over as hitting coach in the past. Tony Muser -- Royals skipper from 1997-2002 -- for example, tried very hard. But Brett just didn't want to. It's unclear at this point what is different.
Grifol, 43, is in his first season with the Royals organization. Here's the background on him, via Royals press release:
Grifol, 43, is in his first year in the Royals' organization, initially assigned as the hitting coach for the Surprise Royals. He joined Kansas City after 13 seasons in the Seattle chain, serving most recently as manager for High Desert (A) in 2012. Previous roles have included area scout, manager at Everett (2003-05), Coordinator of Instruction (2006-08) and Director of Minor League Operations (2008-11). Pedro was also on the Mariners' major league staff for the second half of the 2010 season. He was also the Winter League manager this past year for the Venezuela squad where Alcides Escobar played. A Florida native, Grifol was the Florida State High School Player of the Year in 1988 out of Christopher Columbus High School and then helped Florida State University to the College World Series in 1989 and 1991, earning All-America honors in '91.
The Royals play the Cardinals in St. Louis on Thursday night to conclude a four-game series in which two games were played in each city. The Cardinals have taken each of the first three games.