Ruben Amaro apparently doesn't understand PAs vs. ABs
On a recent broadcast, Phillies GM Ruben Amaro became confused over the difference between at-bats and plate appearances.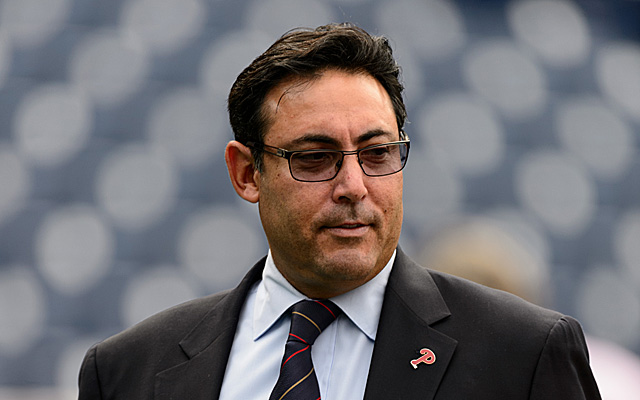 More MLB: Power Rankings | Expert Picks | Latest news & notes | Fantasy news
During the Phillies' broadcast Thursday, general manager Ruben Amaro made an appearance in the booth and, as it turns out, it wasn't a very good idea. When the topic of Jimmy Rollins approaching Mike Schmidt's club record for hits came up, this what Amaro had to say (via crossingbroad.com, which also has audio proof):
"Yeah, we were checking it out. In fact Schmitty was in the booth yesterday when we were talking about it, and, um, I think it's about a thousand difference in, ah, plate appearances. Pretty amazing. But their batting averages aren't that different, which is kind of… weird. I don't quite understand it."
Facepalm.
The Hall of Famer Schmidt had 2,234 hits in 8,352 at bats, good for a .267 batting average. Rollins is currently at 2,233 hits in 8,323 at-bats, good for a .268 average. So far, so good.
Enter, plate appearances ... which include things that at-bats don't, such as walks and hit-by-pitches.
Schmidt had an excellent .380 on-base percentage in his career, thanks in part to 1,507 walks. Rollins has only taken 724 walks. So, yeah, that's a huge difference in plate appearances.
I understand if the average, casual fan gets confused by the difference, but this is a man in charge of running one of 30 Major League Baseball clubs on this planet. I further understand that sometimes a man has what we might call "brain farts," can misspeak or just can't quite get something off the tip of his tongue. This -- ABs vs. PAs -- is a pretty fundamental subject in baseball, though, it's something most of us learned in Little League. I don't know how someone in Amaro's position can just forget the difference. And if he didn't forget it, that means he never knew it, right? I'm lost.
Or, in Ruben's parlance, I don't quite understand it.
In possibly-related news, the Phillies enter Friday's action ranking 24th in baseball in on-base percentage.
Hat-tip: Dan Szymborski
The World Series champions aren't complacent

Stanton swiped at his old team on his way out

Your one-stop shop for all things MLB Winter Meetings-related
Matt Harvey could be on his way out of New York

The Nationals are looking to improve on the edges of their roster

Ellsbury is due at least $68 million over the next three seasons