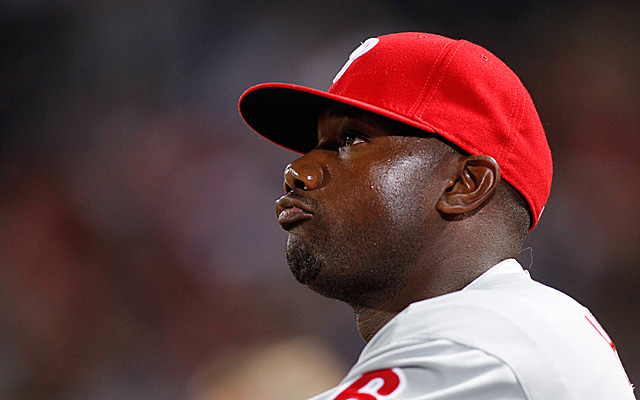 Earlier Saturday, the three Eye On Baseball writers discussed how much we'd pay Dodgers ace Clayton Kershaw in a contract extension, even though he's not a free agent until after next season. My colleague Dayn Perry argued that he'd wait until after the season because he wouldn't want to jump the gun and sign a guy early.
And I couldn't help but think about Phillies first baseman Ryan Howard.
It was April 26, 2010 when the Phillies signed Howard to a five-year, $125 million contract extension. He wasn't even set to hit free agency until after the 2011 season.
And what an albatross of a contract that has proven to be thus far.
Howard's contract began in the 2012 season, when he was recovering from a torn Achilles tendon. He was only able to play in 71 games, hitting .219/.295/.423 (91 OPS+). With the below average offensive production, poor baserunning and pretty much no defensive range, it's no surprise that Howard posted a negative WAR (-1.1).
But he was hampered by injury and no one could have predicted that in 2010, right?
Well, Howard was 30 years old when he signed the extension, which was for the seasons covering his age 32-36 seasons. Making Howard -- someone with essentially one skill: Hitting for power -- one of the highest-paid players in baseball for what would obviously be his decline years was a bad idea from the start. It's not like the Phillies are poor, either, so if Howard was coming off back-to-back MVP seasons and they really wanted to outbid the competition post-2011, they probably could have.
Instead, general manager Ruben Amaro willfully saddled his club with an albatross.
This isn't second-guessing. Many believed from the get-go it was a terrible deal or that at the very least the Phillies should have just waited. Look here, here, here, here and here.
Howard managed 80 games this past season, hitting .266/.319/.465 with 11 homers and 43 RBI. Even if you want to double the power numbers to see what he might have provided in a full season, that's 22 homers and 86 RBI. This coming from a guy who doesn't get on base at a good rate, can't run well and plays sub-par (at best) defense. Again, he has one skill, and he's not even great at that anymore.
This same guy is due $25 million in each of the next three seasons, when he'll be playing on a surgically-repaired Achilles tendon at ages 34, 35 and 36.
What's worse is Howard's deal is now hampering the Phillies in the offseason. Philly.com's Matt Gelb wrote an astute piece on how much the Howard deal is affecting the dealings of Amaro this offseason, with this brilliant close:
The Phillies, of course, are a billion-dollar machine with significant revenues (we will never know how much because they are a private company), a solid attendance base, and an impending TV rights cash cow. They can spend their money as they please. But, for the first time in The Amaro Era, conservatism is being peddled. Look no further than Howard's contract -- negotiated by Amaro -- for blame.
That pretty well sums it up. And while not all lucrative contract extensions a year or two early will end up being bad, this situation is a perfect illustration on why it might behoove teams to wait on offering up gigantic extensions until they absolutely have to.
I'm not against long-term, club-friendly deals like the one the Diamondbacks handed Paul Goldschmidt, for example. We could mention Evan Longoria and a handful of others here. Those are club-friendly, though. The Howard example is more like the Giants extending Tim Lincecum to a nine-figure deal a few years ago. That didn't happen and instead the Giants saved millions of dollars as Lincecum has hit a wall.
As Tom Petty told us, The Waiting is the hardest part. The easiest route isn't always the best, though, and good things come to those clubs who wait when it comes to dishing out $100M-plus extensions more than a year before they have to.