Ryan Madson attempting comeback; holding private workouts for teams
Former Phillies closer Ryan Madson is attempting to come back after losing two years to elbow problems, reports Jon Heyman of CBSSports.com.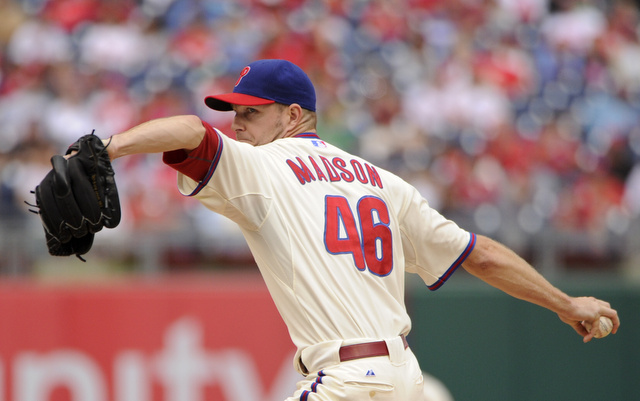 MORE: FA tracker: position players | FA tracker: pitchers
Free-agent right-hander Ryan Madson is holding private one-on-one workouts with teams, reports Jon Heyman of CBSSports.com. The former Phillies closer is trying to come back after missing two years with elbow problems.
Madson, 33, has not pitched since 2011 due to Tommy John surgery and subsequent complications. He is one of the rare players who falls outside of the procedure's super-high success rate. The private workouts are intended to showcase his rehab progress.
In his last healthy season, Madson saved 32 games and pitched to a 2.37 ERA (162 ERA+) in 60 2/3 innings for Philadelphia. In the three years prior to the injury, he had a 2.78 ERA (146 ERA+) with a 4.00 K/BB in 191 innings.
The Reds ($6 million) and Angels ($3.25 million) signed Madson in 2012 and 2013, respectively, but received zero return. Given his pedigree and the always present demand for bullpen help, Madson should have no trouble landing a contract if the workouts go well. It will probably have to be a minor-league deal at this point, however.