Sabathia (just like Verlander) takes control in Game 5, so it's Yankees-Tigers in the ALCS
You want to know what a true ace looks like? If you missed seeing Justin Verlander for the Tigers in their Game 5 on Thursday, CC Sabathia gave a repeat performance for the Yankees in their Game 5 on Friday. And now it's Yankees-Tigers in the ALCS, starting Saturday.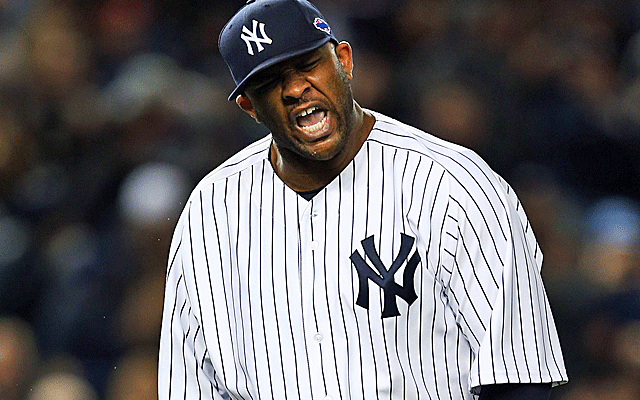 CC Sabathia throws the first complete game of his postseason career.
(Getty Images)
NEW YORK -- There was never a question.

We thought there was, but there wasn't. We thought there was, but CC Sabathia knew there wasn't.

Just as the Tigers weren't going to lose their Game 5 on Thursday because Justin Verlander wasn't going to let them lose, the Yankees weren't going to lose their Game 5 on Friday because Sabathia wasn't going to let them lose.
More on Orioles-Yankees
Related links
You want to know the value of a true ace this time of year? Well, if you missed seeing it Thursday night in Oakland, there was a repeat performance Friday in the Bronx.

The Tigers have had their problems, but they always had Verlander. The Yankees have had their problems, but they have Sabathia.
You want to know why these two teams are meeting in the ALCS, beginning Saturday night at Yankee Stadium? That's why.


"The media throws around the word 'ace' way too much," Derek Lowe said. "I've started six of the last opening days, but I'm not an ace. You've seen it the last 24 hours -- with CC here, and with Justin last night.

"It's the true nine-inning starter that the other team fears. He brings a calm to his clubhouse."

The Yankees got past the Orioles not because their sometimes high-powered offense got going, and not because manager Joe Girardi made the latest bold Alex Rodriguez decision, benching his $29 million once-upon-a-time star. The Yankees got past the Orioles because when they finally reached a game they absolutely had to win, they had Sabathia and the Orioles didn't.

They got past the Orioles because on yet another day when scoring runs was tough, Sabathia made it even tougher. The Yankees won 3-1 in Game 5, with Sabathia throwing a complete-game four-hitter.


For all the questions we asked about Sabathia in the middle of September, here in the middle of October he looks just like the guy he always expects himself to be.

That's the other thing about true aces, of course. They know they're going to win, and they won't accept anything else. They know it's on their shoulders, and they wouldn't want it any other way.

"When CC's got it, they're not going to score too many runs," Mark Teixeira said. "So we didn't put too much pressure on ourselves."

The Yankee hitters have been feeling pressure, and it's not just A-Rod pressure. They've had trouble scoring runs and they know it, a point drilled home when Teixeira stole second base in the fifth inning Friday.

Teixeira had played 35 career postseason games before this one without ever attempting a steal. He played 123 games this year and attempted just three. When he came back from a September calf injury, he joked about how speed was never part of his game, anyway.

But the Orioles had been playing behind him, and the Yankees hadn't exactly looked good against Orioles starter Jason Hammel. In fact, Teixeira's leadoff single in the fifth had given them their first baserunner in a scoreless game.

"I thought we needed a spark," Teixeira said.

He took off, and he was safe. Raul Ibanez, trying to hit a ground ball to the right side to get Teixeira to third, ended up hitting one through the right side to score him. And Sabathia had his lead.

During that early September stretch when we were asking if Sabathia was healthy, he had five straight starts in which he surrendered a lead. But as the games got more important, that Sabathia has disappeared, and the Sabathia who carried the Yankees to the 2009 World Series title has returned.

He doesn't have the consistent velocity he had then. But he has enough, especially with the command he has shown and the changeup that seems as good as ever.

And then there's the desire, which shows up most in games like this.

"That performance was not just tremendous talent," Ibanez said. "That performance was a tremendous warrior.

"He willed that to happen."

His manager seemed to understand that. Girardi had David Robertson warming up in the eighth, when some soft singles and a walk seemed to have Sabathia in trouble. The Orioles did get their only run, on a Lew Ford single, but Sabathia struck out Nate McLouth and got a ground ball from J.J. Hardy to get out of it.

At that point, he had thrown 111 pitches, and closer Rafael Soriano was warming up. Even some of the Yankee players assumed Soriano was coming in. Sabathia never thought that.

"There was no conversation [with Girardi]," he said. "I was going out for the ninth."

Thursday in Oakland, Tigers manager Jim Leyland said Verlander would be on the mound as long as it took to decide the game. Girardi didn't say the same thing Friday (and in fact said he was close to pulling Sabathia in the eighth and in the ninth), but Sabathia always believed he was staying in.

"CC wanted the ball," catcher Russell Martin said. "He's got that mean grip on the ball. You're going to have a hard time taking it out of his hand.

"He's a stud, man. He's been the ace that we need."

Yes, he really has been. He was an out away from a complete-game win in Game 1, and he came back with a complete-game in Game 5.

There was a thought among some rival executives that he's not Verlander, and that because of that it would be easier to beat the Yankees in a five-game series than it would be to beat the Tigers.

Maybe that's right. Verlander is the defending AL MVP and Cy Young, and he may well win the Cy Young again. If there's one pitcher in baseball you want on the mound in a must-win game, it's still probably him.

But the Yankees will never complain about having Sabathia. They'll never feel he's anything less than a true ace.

If you need a definition of that, go back to Lowe, the guy who has pitched and won Game 1 and Game 7 and a clinching World Series Game 4, but knows he's not in the same category.

"A guy you absolutely want on the mound more than anybody," he said.

That's Verlander, but that's also Sabathia. They could meet in Game 3, but probably not (Sabathia seems more likely to go in Game 4 on normal rest).

They could definitely meet in Game 7.

"I don't know if there's must-see TV," Lowe said. "But that would be close."

The ALCS begins Saturday, and neither Verlander nor Sabathia will be on the mound. They might be the two most important players in these American League playoffs, but for the next two days you won't see them.

Without what they each did in Game 5, you might not have seen the Yankees and the Tigers, either.


Wright was arrested at his home Friday

The former Tigers teammates were voted into Cooperstown by the 16-person Modern Era Commit...

The Yankees still have room for a good-sized signing even after Saturday's trade with Miam...
St. Louis gets some much needed help for their bullpen

Keep tabs on the top 50 free agents right here

Morrow thrived with the Dodgers last season