The Brewers aren't going away
Still waiting for the Brewers to fade in the NL Central? Well, it's getting late out there ...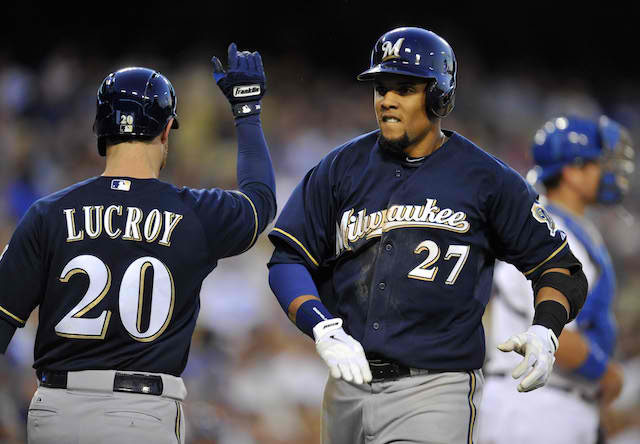 More MLB: Power Rankings | Expert Picks | Latest news & notes | Fantasy news
Consider what we knew about the 2014 Brewers coming into the season ... They were fresh off an 88-loss campaign, and they toiled in a division that houses the reigning NL champs (the 97-win Cardinals) and both NL wild card entrants. To improve that base-line, the Brewers added the solid but hardly needle-moving Matt Garza as their signature winter acquisition. Oh, and they'd also begin the season by playing 16 of their first 19 games against 2013 playoff teams.
Still and yet, here we are. Where we are is the middle of August, and the Brewers remain in first place in the NL Central. In fact, the Brewers, after Saturday night's win over the Dodgers (MIL 3, LAD 2), have now spent 144 days in first place. That would be almost all of them. 
Let's be honest: Most of us not emotionally invested in the team's success have been expecting a fade. We were sure it had begun in late June, when the Brewers managed to turn a 6 1/2-game lead into a tie with the Cardinals in a span of 11 days. It was a 10-2 thumping at the hands (wings?) of those Cardinals that did it. Surely, the Redbirds, 2013 pennant snapping in the breeze, were poised to assert their authority over the division. 
Well, the next day the Brewers beat the Cardinals 11-2, proceeded to win seven of their next 10 and rebuilt a three-game lead. That's pretty much where we stand now. In the middle of August. 
On another level, as much as it might feel like the Brewers are still living off their 20-8 record coming out of April, there's this uncooperative fact: In the first half, the Brewers played .552 ball with a +17 run differential, and in the second half they're playing .571 ball with a +22 run differential. So, no, that's not a team buoyed by nothing more than an aberrantly hot start. That's a legitimately good team. 
It's also a broad-based success. The 2014 Brewers have a winning record at home and on the road; against winning and .500 teams and against losing teams; against right-handed starters and left-handed starters; in one-run games (and extra-inning games) and in games decided by five or more runs. This year's Brewers model probably isn't a certifiably great team -- they're on pace for "just" 90 wins -- but they've led what figured to be a tough division for almost the entire season, and they've thus far survived the ebbs that do in less serious upstarts. 
That's thanks to a powerhouse offense, a pair of MVP candidates in Jonathan Lucroy and Carlos Gomez, a surprisingly stable (if unspectacular) rotation, a workable bullpen and Ron Roenicke's steady hand in the dugout. In the here and now, FanGraphs gives the Brewers, based on results to date (but not counting Saturday night's win) and rest-of-season projections, a roughly 75 percent chance of making the playoffs. Coming in would you have guessed that the Brewers, with six weeks of regular season left, would have a three-in-four shot at playing October baseball? I would not have. Yet here they are, defying expectations in the piecemeal, methodical fashion that's come to characterize the NL Central frontrunners. 
There's still time for things to change and preseason assumptions to be justified, but every day there's a little less time. That's probably just fine with the day-by-day Brewers. 
Marcell Ozuna figures to be the next Marlins star on the move

Several relievers have signed in the last two days

Several teams are interested in the switch-hitting first baseman
Neshek and the Phillies are closing on a two-year contract

And the team that first drafted Cole is interested

This scout was SUPER into Jeter