The Cards know how to do October ... and Pirates better learn fast
The Pirates' Cinderella story took a hit in Game 1 of the NL Division Series with a sloppy and poorly pitched game against the Cardinals. Is it fatal? No. But Pittsburgh's margin for error just shrunk. The Buccos need to clean things up, quickly.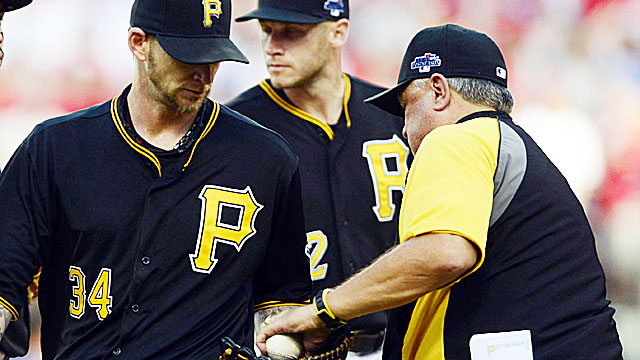 This is where things change.
St. Louis knows how to do October. The Pirates may have won 10 of 19 games against the Cardinals this year, they may have had their way with St. Louis in a five-game series in Pittsburgh July 29-Aug. 1 … but things are different in October.
The easy thing here would be to make the cheap joke that, hey, the Buccos have been away for 21 years and played like it. OK, so they did. But these Pirates aren't the ones who conducted Operation Shutdown on October over all those years. And besides, manager Clint Hurdle smoothly directed a Rockies team all the way to the World Series in 2007.
So he, at least, knows … which is why A.J. Burnett's abbreviated-yet-too-long Game 1 implosion during the Cardinals' 9-1 blowout Thursday was so mystifying.
Burnett was not sharp from jump street, but he really was misfiring over and over in a seven-run third inning that drained all drama from this one long before the St. Louis sun had set.
How off was he? He faced 16 Cardinals and 11 reached base. He walked four and hit a batter. He struck out none of them. And this is a man who finished fifth in the National League in strikeouts this year at 209.
This is where things change, and Hurdle wasn't necessarily obligated to go all Captain Hook and pull Burnett at the first sign of trouble … but sometime well before Burnett's eighth batter of the inning that killed the Pirates would have been nice. Especially given that of those eight hitters … Burnett failed to retire even one of them … while throwing first-pitch balls to six of the eight.
The Cardinals know how to do October, and that involves a number of things. These guys are on-base machines, they're opportunistic, they pitch and they recognize things. Jon Jay scored their sixth run in the third by alertly rounding third when the throw in from the outfield ricocheted off of David Freese. Carlos Beltran, well, he's a modern day Mr. October. And it's next to impossible to be on the business end of Adam Wainwright's pitches in October.
These guys are steeled and tested in October. Doesn't mean they're unbeatable. But they're not beatable if you make the mistakes the Pirates made. Burnett walked three and hit a batter in the sixth inning and every one of those scored. Those are just free runs right there.
Hurdle explained afterward that he left Burnett in to face Freese because he thought the Pirates could get a ground ball double play, and he rightly explained that they got the ground ball, but it was three feet too far from first baseman Justin Morneau.
Not only is October different, October is cruel. The game speeds up and it is unforgiving.
"Please, put it all on me," Hurdle said of Burnett. "It was my decision" to leave him in.
A playoff series rarely turns on one decision.
But one decision can vastly increase the degree of difficulty, especially against the October veterans in St. Louis.
The Cubs are facing a right-handed starter for the first time in the NLCS

The Red Sox should probably just lay low on Twitter for a while

The Yankees have lacked production out of the DH spot so far in the postseason
Frazier has come up with big hits, but his greatest impact may have come in the clubhouse

The Dodgers are trying to claim a commanding 3-0 lead on the road

The Astros are trying to rebound from a Game 3 drubbing in their first game in the Bronx