The Freak has a knack; even at his worst he can summon the best
Tim Lincecum threw his second no-hitter in two years, yet another amazing feat for a man toting a 4-plus ERA.
More MLB: Power Rankings | Expert Picks | Latest news & notes | Fantasy news
Some people have a knack for the big moment, but nobody has it more than Tim Lincecum of the San Francisco Giants.
Lincecum sees an opportunity for something special, and he grabs it fast and squeezes it 'til it hurts. Even at this second stage of his career, he relishes the big stage.
Lincecum had one of those moments Wednesday, one of his moments. When the day was through, Lincecum had a no-hitter in a 4-0 victory against the Padres, his second no-hitter in the last two years, two of his worst years.
"It's really something, isn't it?" Chris Lincecum's, Tim's father and pitching guru told CBSSports.com by phone. "He's always been like that. He's a money player. He's always been a money player."
At his best, he's the best. And even when not nearly his best, which has been the case through much of the last three seasons, he can summon the best of himself when he has to. He invented a new pitching style, with his father's help, and he can also re-invent himself, even as a sudden bullpen star in the World Series, as he did two years ago.
Lincecum brought a 4.90 ERA into the game against the Padres, which wouldn't be very good in a normal year. But in a pitchers' year like this one, it's almost cause to wonder whether he's earning his keep.
"They keep thinking he's going away, he's going away, and then he comes up with this," Chris Lincecum said. "He's done that in everything he's done. Look at [his career]. Look at the World Series, when they stuck him in the bullpen."
The way things were going, some may have been wondering whether another move to the pen was in the offing. The WHIP was 1.48 coming into the game, which meant he allowed about a baserunner and a half an inning entering the day. On this day the number was 1, but that was for the whole game -- only one baserunner allowed through nine innings, that on a second-inning walk.
No matter the way he was going, just like last season, he found the greatness within him, and he threw another no-hitter. That's two no-hitters in two years, two of his otherwise lean years as he moves out of the superstar phase of his career.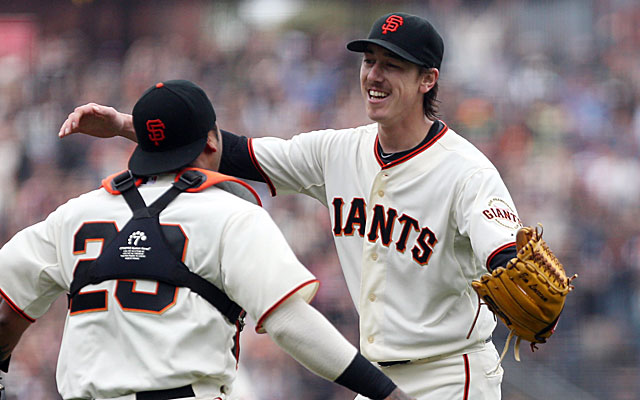 Many folks were amazed that the Giants brought him back for $35 million over two years last winter, even before he hit free agency. With the qualifying offer tied to him, he would have been hard-pressed to get anywhere near that elsewhere, presumably.
But to the Giants, he is worth every penny. The Giants are a team that knows its pitching (they drafted Matt Cain, Madison Bumgarner and Brian Wilson in addition to Lincecum in recent years), and it knows its town. It knows how much its city loves The Freak, a guy who routinely performed amazing deeds when he was at his best, and when he was far less than his best.
In those tight times, Chris Lincecum said, "His focus is a little bit better. His mentality is a little bit better."
Chris Lincecum's son is incredible in so many ways. He's a slight man who three times led the league in strikeouts. He's a great athlete who can help his cause in so many ways ("I'm going to get his DNA checked," Chris Lincecum joked).
He's been shocking 'em all for years, starting soon after the Giants made him the 10th pick of the 2003 draft, five picks after the hometown Mariners made the maybe the biggest mistake in franchise history bypassing him up for a bigger fellow who better fit the mold, Brandon Morrow, who's had a hard time staying healthy despite his greater stature.
"They all talked about how [Tim's] going to wear out in five years, Well, it's eight years later," Chris Lincecum said. "Oops."
That was quite a draft, alright, with Clayton Kershaw and Max Scherzer also picked among the first 11. But while Kershaw, four years Lincecum's junior, ultimately looks en route to an even more spectacular career, Lincecum has more career highlights than any of them to this point.
He now has two Cy Young awards, two World Series rings and two no-hitters compared to two Cy Youngs and one no-hitter for Kershaw. In fact, the only two pitchers with two Cy Youngs, two rings and two no-nos are Lincecum and Sandy Koufax, as @CSNBaggs reported.
Yes, it has been an incredible run for the man who recently turned 30, no matter the bumps.
That's simply amazing. But what's most amazing is that he has performed at least three of those feats when he wasn't at his best, or even close to it.
Throughout 2012 he was pretty awful, to the point where some folks started to wonder about his career. Yet, with his blessing, manager Bruce Bochy converted him from a suspect starter to a dynamic reliever in the World Series, and he helped nail down a second title in three years for a group and a team that was never expected to win even one.
Once again last year he struggled with his starts. But he found magic one July night at Petco Park, no-hitting the Padres while striking out 13 and throwing a ridiculous 148 pitches. It was the most pitches thrown by any pitcher last year. Which is amazing when you consider Lincecum is still 170 pounds, and that's dripping with Gatorade after the game.
He did again, not even a year later. This time the venue was the familiar AT&T Park, the site of so many triumphs and so much love for Lincecum, the adopted San Franciscan. This time Lincecum was much more economical. This time he threw only 113 pitches, and needed barely a sweat in the daylight of the Bay Area. This time the story was only one baserunner, that second-inning walk to Chase Headley.
"Though San Diego isn't a good hitting team, they did pretty well against [Tim] Hudson and [Matt] Cain the last two days," Chris Lincecum noted.
Sure, some might stress that the Padres are the weakest hitting team in the majors, and that's fair to say. But no one else has been no-hitting them over the last couple years. No one but Lincecum. He may never win another Cy Young Award, but he remains the man who is least likely to let a great moment get away.
Maxwell joins a growing movement across sports

The Yankees punched their ticket to the playoffs with a win over the Blue Jays on Saturday

Sabathia's stance seems to be an increasingly popular one among athletes
Plus the A's and Brewers have hope, Giancarlo goes deep again, and much more

Matt Chapman and Matt Olson give the A's hope

Despite an awful month, the Dodgers are again NL West champions