Tim Hudson thanks Atlanta with letter to local newspaper
Tim Hudson has departed Atlanta and signed with the Giants, but he valued his time in Atlanta and wrote a letter to the local newspaper about it.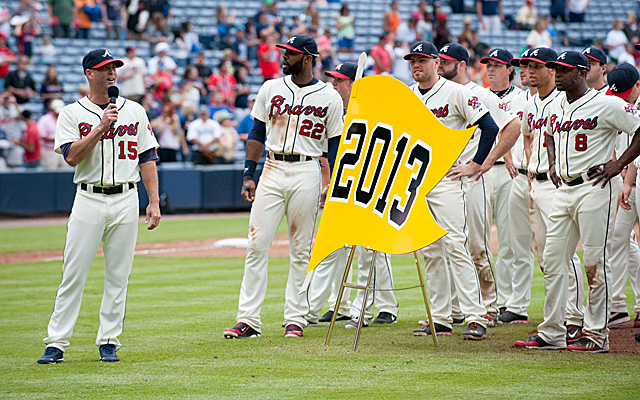 Related: Hudson signs two-year deal with San Francisco
Starting pitcher Tim Hudson signed with the Giants last week, meaning his nine-year stint with the Atlanta Braves has concluded. In his time with the Braves, Hudson went 113-72 with a 3.56 ERA.
Having grown up in Alabama and attended the University of Auburn, Hudson grew up in Braves country, too.
Now, with his departure from the area and a return to the Bay Area -- where Hudson began his career with the A's -- he's written a letter to the Atlanta Journal-Constitution.
Here's an excerpt of it (subscribers can read the full text by clicking here):
"When I was traded from the Oakland A's to the Atlanta Braves before the 2005 season, a childhood dream was realized. I grew up a Braves fan just a few hours south of Atlanta, and it was hard for me to believe that I was going to actually play for the Atlanta Braves and legendary manager Bobby Cox. My family was young. We had a toddler (Kennedie), a baby (Tess), and a baby on the way (Kade). We were welcomed into the Braves organization with open arms. Our son was born two weeks into my first season, and our journey began. The Atlanta Braves are really all that our children know about this crazy baseball life, and we are so thankful for this upbringing for them."

...

"And to the city of Atlanta and the amazing fans in all of Braves country…my deepest thanks. Braves fans are one-of-a-kind. Your passion to win comes close to equaling that of the players that go out on the field each and every game. But when the team goes through rough patches, you're there to encourage and cheer and believe that things will turn around. In my 9 seasons, we definitely had some very high moments and some extremely disappointing moments. But one thing that I learned is this – once a Braves fan, always a Braves fan. No matter what. And as a player, that means more than you could understand."
Class act as usual, Mr. Hudson.
The lefty starter is coming off a terrible season

After acquiring Ian Kinsler and Zack Cozart in recent days, the Angels are trending upward

Cozart's coming off a big season as the Reds' shortstop
The veteran slugger spent the last eight seasons with Cleveland

The Padres may be poised for an active winter

Yes, Bryce Harper is going to make a lot of money next winter