Umpires overturn bang-bang play at first base following conference
The umpiring crew overtuned a bang-bang play at first base during the Yankees-Blue Jays game on Thursday night.
More MLB: Scoreboard | Standings | Probable Pitchers | Sortable Stats | Odds
This isn't quite as rare as a steal of first base, but it's not something you see every often. During Thursday night's Yankees-Blue Jays game, the umpires conferenced and overturned a bang-bang play at first base. You've probably seen them get together to discuss a fair-or-foul call, something like that. But a bang-bang play at first? It never happens.
Here is the MLB.com video of the play. And since it is not embeddable, here is a GIF as well: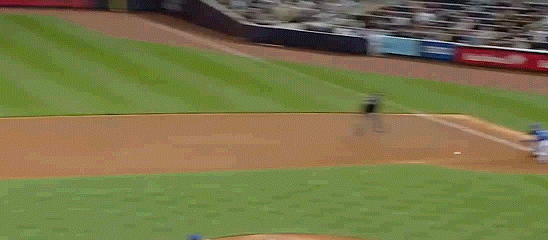 As you can see, first-base ump Chad Fairchild initially ruled Ben Francisco out at first. But the call was changed after the conference because the umpiring crew felt Edwin Encarnacion trapped the ball against the dirt and never truly had control. Yankees manager Joe Girardi never appealed the play, and Blue Jays manager John Gibbons was ejected for arguing following the change.
As Shi Davidi of Sportsnet.ca explains, the umpires were able to conference without an appeal from Girardi because of a general instruction in the rulebook that says the "first requisite is to get decisions correctly ... If in doubt don't hesitate to consult your associate." Crew chief Jeff Kellogg, the second-base ump, initiated the conference.
The play ultimately did not matter. The Yankees were already leading 5-3 at the time. After the overtuned called put runners at first and second with one out, reliever Brad Lincoln recorded two quick outs to end the inning and prevent the runners from advancing any farther. New York held on to win by the same score. Still, you almost never see a call on the bases discussed and overturned like that. Definitely a rarity.
Maxwell joins a growing movement across sports

The Yankees punched their ticket to the playoffs with a win over the Blue Jays on Saturday

Sabathia's stance seems to be an increasingly popular one among athletes
Plus the A's and Brewers have hope, Giancarlo goes deep again, and much more

Matt Chapman and Matt Olson give the A's hope

Despite an awful month, the Dodgers are again NL West champions