Thursday night, the Nationals dropped their home opener to the Marlins following a lengthy rain delay (MIA 6, WAS 4). The game was delayed one hour and 23 minutes in the bottom of the second.
The very-good-at-baseball Bryce Harper drove in his club's fourth run with a solo home run off right-hander Bryan Morris in the seventh inning. Here's the video:
That, believe it or not, is the 99th home run of Harper's career. It's easy to forget this is already his fifth season in the league.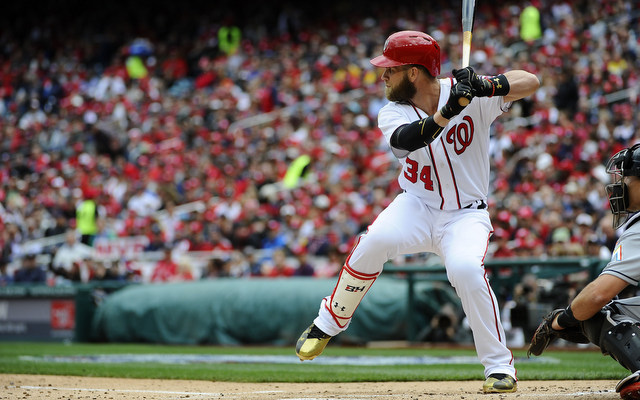 Later in the game, Harper just narrowly missed his second home run of the game and 100th of his career. He took Marlins closer A.J. Ramos deep to the warning track in center field. The ball was caught here: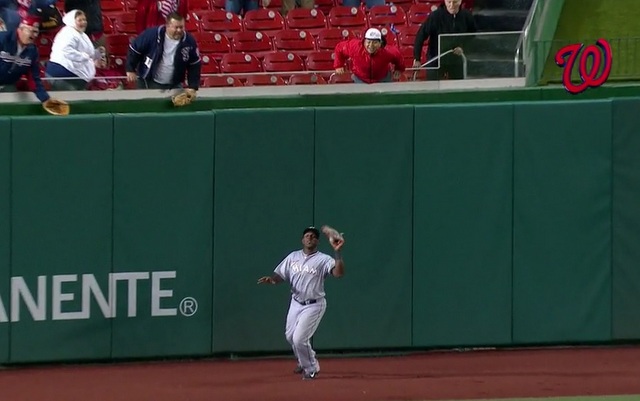 Assuming he manages to hit a home run at some point in the next 10 days, Harper will be the seventh youngest player in baseball history to reach the 100 career homers milestone. He is 23 years and 174 days old.
Here's the current top seven:
Mel Ott -- 22 years, 132 days
Tony Conigliaro -- 22 years, 197 days
Eddie Mathews -- 22 years, 292 days
Alex Rodriguez -- 23 years, 16 days
Andruw Jones -- 23 years, 62 days
Johnny Bench -- 23 years, 161 days
Albert Pujols -- 23 years, 185 days
Pretty good company, huh?
The Nationals play nine games in the next 10 days, so the smart money is on Harper hitting his 100th home run at some point soon and taking over seventh place on that list.