Andrei Kirilenko not traveling with Nets on road trip
Nets forward limited by bad back, has struggled this season when on the floor.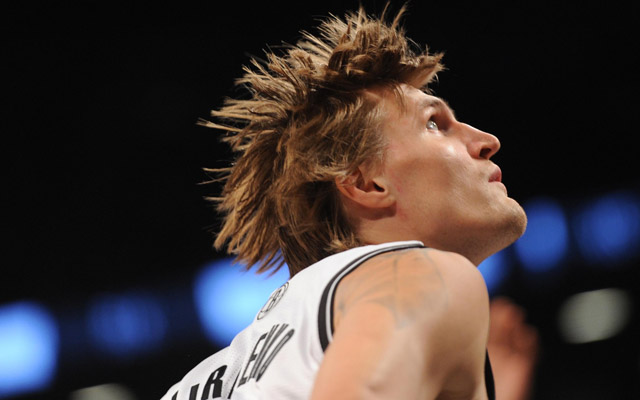 The Brooklyn Nets, stumbling and struggling at 2-4, have a three-game West Coast road trip coming up. But as much as they've been struggling, they have even more challenges ahead as reserve forward Andrei Kirilenko will miss the entire trip with his sore back that has limted him this season. 
Andrei Kirilenko (back) will not be making the trip to the west coast. #Nets

— Alex Raskin (@alexraskinNYC) November 12, 2013
Kirilenko has been a disaster this year due to the injury. He's averaging six points and three rebounds on 42 percent shooting, and the Nets have been outscored by 6.4 points per 48 minutes with him on the floor. Defense was the biggest reason Kirilenko was brought on board, but with him on the floor, opponents have scored an insane 1.15 points per possession. 
Like I said, a disaster. Hopefully the time off will get him healthy and he can become a productive member of the team, and hopefully the Nets will rally without him. Mikhail Prokhorov doesn't seem like the kind of guy who woud be cool with spending $100 million for disappointment. 
Westbrook's late layup gave the Thunder a 109-108 victory

LeBron became the seventh player in league history to reach the milestone

There were a few things that stood out from Tuesday's All-Star selections
Here are three players from each conference who had legitimate claims to make the game

LeBron achieved the milestone in the first quarter Tuesday

Here are the full lineups for the 2018 NBA All-Star Game