Blazers F LaMarcus Aldridge hospitalized with 'deadly blood virus'
Portland Trail Blazers All-Star forward LaMarcus Aldridge says that he was hospitalized this week with a potentially "deadly" blood virus.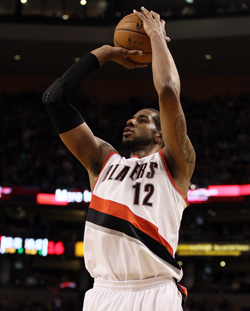 LaMarcus Aldridge says he came down with a potentially deadly blood virus.
(Getty Images)
File this under both terrifying and candid.
Portland
Trail Blazers
forward
LaMarcus Aldridge
disclosed that he was hospitalized this week with a "deadly blood virus" on
his Blazers.com blog on Friday
.
On Saturday I came down with a blood virus. I quickly became sick and had to be rushed to the hospital. I thought it was a case of bad food or a bad cold, but I was wrong.  It turned out to be a very serious virus that if not treated quickly could actually be deadly! One thing I know for sure is that I've never felt worse in my life and there were times I wasn't really sure where I was going. Thankfully I had a lot of family support and great medical care that helped me fight through it and now I've turned the corner and I'm feeling much better.
The Oregonian
reported
the following statement from a Blazers spokesperson: "LA is on the road to recovery and we are confident that he'll be just fine." 
Aldridge, 26, has been writing the blog -- dubbed L.A.'s Rehab Central -- as he recovers from a
minor hip surgery
he underwent in May. His recovery time from the labral tear and subsequent surgery was pegged at 2-to-4 months and effectively eliminated him from consideration for USA Basketball's 2012 Olympics team.
Aldridge has also
missed time
during his career due to Wolff-Parkinson-White Syndrome, a heart condition that has required him to undergo an eletrical treatment procedure multime times.
What makes this situation doubly unusual is Aldridge's decision to release the news as well as his method for doing so. Given that it's the middle of the offseason and he was already undergoing a rehabilation, there's a fairly decent chance he could have kept the virus a secret had he wanted to, at least for the short-term. Surely no one besides a few family members and team officials were aware that it had even happened.
Kudos to Aldridge here for being open and honest with his disclosure, which some might feel was a private matter. In the long run, getting the facts out is likely in his best interests. It prevents rumors from starting and it protects both himself and the Blazers, whose medical staff has come under heavy scrutiny due to a string of injuries to key players, from unnecessary criticism if the news was eventuallly revealed later.
Aldridge averaged 21.7 points and 8.0 rebounds per game this season and was named to his first All-Star Game.
Our advanced computer model simulated Saturday's Thunder-Cavs game 10,000 times

The Jazz are reportedly looking into trading Rodney Hood before the Feb. 8 NBA Trade Deadl...

The Cavaliers are ready to reset everything if they have to. Their interest in Lou Williams...
It sounds like the Cavaliers are going to be active before the NBA trade deadline on Feb....

We've got all the scores, highlights and news for Friday night

George Hill, who is unhappy in Sacramento, could be a solution to Cleveland's backcourt si...