LaMarcus Aldridge to undergo season-ending hip surgery; out 2-4 months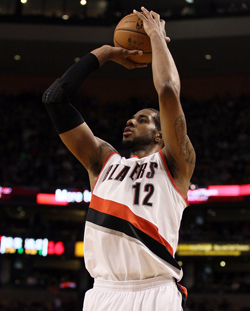 LaMarcus Aldridge will have season-ending surgery on his hip.
(Getty Images)
The Blazers announced Thursday that All-Star forward LaMarcus Aldridge will undergo surgery on his right hip that will cause him to miss the remainder of the 2011-2012 season.
Portland Trail Blazers forward/center LaMarcus Aldridge will undergo arthroscopic surgery on his right hip to repair a labral tear and will miss the remainder of the season, it was announced today by the team.

"In his most recent MRI, and following further evaluation, it's been determined that LaMarcus has a slight labral tear and will require arthroscopic surgery," said Acting General Manager Chad Buchanan. "LaMarcus' priority is that he's 100-percent healthy going into training camp this fall and we all feel this is the best course. He's had an All-Star year and his long-term health is the most important thing to consider."
Aldridge told reporters in Portland on Thursday that he had suffered a "very slight" tear and that he expected his recovery period would take 2-4 months. Aldridge said that he could possibly make a return in time to compete for USA Basketball during the 2012 Olympics but also noted that he wouldn't "push it."
"Talking to the doctor over and over again, this is very precautionary and very smart to do right now because it's a very small tear right now," Aldridge said. "If you play on it and wait, it could become something major."
The Blazers will continue to start forward J.J. Hickson in place of Aldridge.
Portland has been in tank mode since the trade deadline brought a trade of Gerald Wallace and the firing of Nate McMillan. So the move has no effect on their season prospects. It is, however, yet another in what feels like an endless line of Blazers stars undergoing season-ending surgery.
Earlier this week, news broke thatt he Blazers
were considering shutting down Aldridge
.
Includes reporting by Ben Golliver.