Cavs' Dion Waiters out a week with loose knee cartilage
After leaving Monday's game against the Indiana Pacers, Cleveland Cavaliers rookie Dion Waiters is out about a week with loose knee cartilage.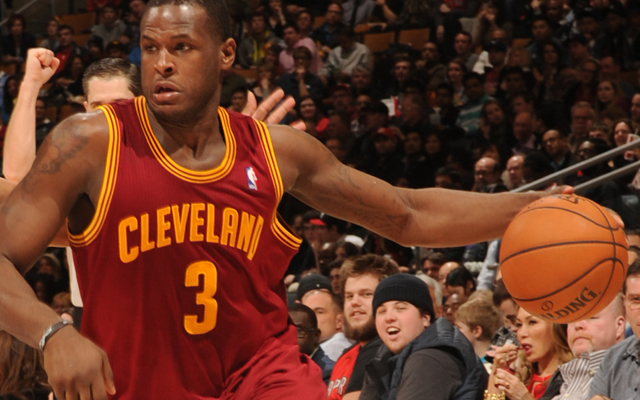 The Cleveland Cavaliers are already hurting with point guard Kyrie Irving (shoulder) and big man Anderson Varejao (knee) out for significant time. On March 11, Irving was diagnosed with a left shoulder injury and expected to miss the next 3-4 weeks of action. Back in December, doctors found a blood clot in Varejao after he had knee surgery and he's going to miss the rest of the season.
Rookie guard Dion Waiters doesn't have anything as serious as his teammates, but he will miss approximately a week with loose cartilage in his left knee and may need a arthroscopic procedure after he's reevaluated. From the Cleveland Cavaliers:
Cavaliers guard Dion Waiters left last night's game vs. the Indiana Pacers at Quicken Loans Arena during the first half with left knee soreness and did not return to play. Waiters was examined at Cleveland Clinic Sports Health today by Cavaliers Head Team Physician Dr. Richard Parker. The exam, including an MRI, revealed a small, loose cartilage fragment in his left knee. Waiters will be OUT for approximately one week while he undergoes a period of rest, treatment and additional observation and examination. Following this period, and based on the continued evaluation of his knee, next steps regarding his treatment and recovery will be established, including the potential for an arthroscopic procedure.
That's too bad for Waiters, not just because of the injury, but he had been playing much better in the second half of his rookie season. After struggling with finishing at the rim and shot selection in the first three months of his NBA career, Waiters had a breakout month of February in which he averaged 15.8 points and actually made 51.8 percent of his field-goal attempts. 
In the first seven games of March, Waiters had regressed to 42.2 percent from the field, but it was still higher than his season shooting clip. 
In the next week, the Cavaliers play just two games, so if the intial timetable ends up being true then he won't miss much action. However, if he ends up needing a minor surgery to clean things out, he probably will miss the rest of the season.
The Cavs play the Miami Heat on Wednesday as they try to prevent LeBron James and company from getting their 24th straight victory.
Nerlens Noel is now being represented by Rich Paul of Klutch Sports

Steve Kerr opens up about his back issues and more

OJ Mayo, banned from the NBA for positive drug test, is considering playing overseas
The King? 'LeBron, it turns out, is Aquaman,' or so the account via Dwyane Wade's wife goe...

From Penny to Thunder Dan to Pistol Pete to Agent Zero, guys who would be better in 2017

Griffin said recently he thinks it's more likely that LeBron James goes to New York than L...