Damian Lillard's comfort shooting 3-pointers fuels Blazers' attack
The Portland Trail Blazers have made the 3-point shot a big part of their offense the last two seasons and Damian Lillard's the big reason for why it's working.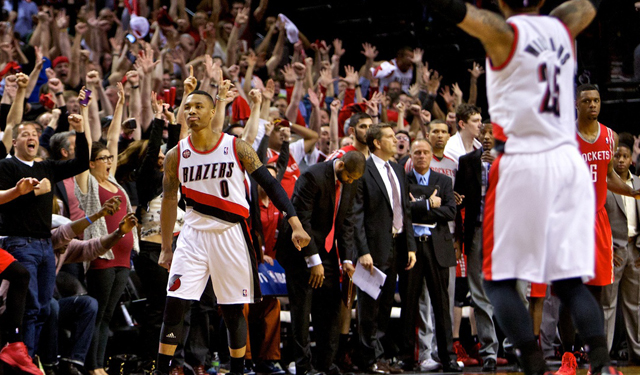 More Offseason Analysis: Coaching changes, news | Free Agency | Draft
The weapon of 3-point shooting has transformed the NBA from a game about power to a game about spacing. With the way the rules have changed how defenses play both individually and as a unit, the NBA has turned the extra point from beyond 23 feet, 9 inches into the great equalizer. Don't have the size to compete inside for your points? Stretch the defense out to make their big men uncomfortable. Want to play fast and hit your opponent with as many efficient shots as possible? Get out and run, get your shooters to the 3-point line and bomb away.
It's the space the shooting yields that allows teams to then get their points inside. They get their points inside because the defense has to protect the 3-point line. Then when the defense focuses on stopping the points inside, the 3-point line becomes easily accessible for points once again.
The Portland Trail Blazers made the 3-point shot a huge portion of their offense last season, much like they did in 2012-13 but this time they had the accuracy to justify it. In 2012-13, the Blazers took the fourth-most attempts in the entire league but were just 20th in accuracy. In 2013-14, they took the third-most 3-pointers in the NBA but were No. 10 in accuracy, jumping from 35.3 percent to 37.2 percent from downtown.
Their newfound marksmanship helped boost the 16th-best offense the previous season to No. 5 in the NBA. One of the biggest cogs in the Blazers' 3-point engine is point guard Damian Lillard. In his two years in the NBA, Lillard has taken 26.5 percent of the Blazers' 3-point shots. The Blazers have taken 3,975 3-pointers over these two seasons and Lillard has fired off 1,057 of those attempts.
Golden State Warriors sharpshooters Stephen Curry and Klay Thompson are the only other players to have taken at least 1,000 3-pointers over the past two seasons. In fact, Lillard's rate of firing off 3-pointers is already historic through his first two seasons. Back in 1993-95, Nick Van Exel set the record for most 3-pointers through a player's first two seasons with 875 attempts. Lillard broke that with two months left of his sophomore season.
He's not just chucking aimlessly though. Lillard is also the first player in NBA history to make at least 400 3-pointers through his first two seasons. His career rate of 38.1 percent is not only good but it's stellar when you consider the volume at which he's shooting 3-pointers. The previous record for most 3-pointers through your first two seasons in the NBA was Thompson with 322. Lillard has obliterated that with 403 makes.
Check out his Heat Maps from basketball-reference.com and you can see just how important his 3-point shooting is to his scoring: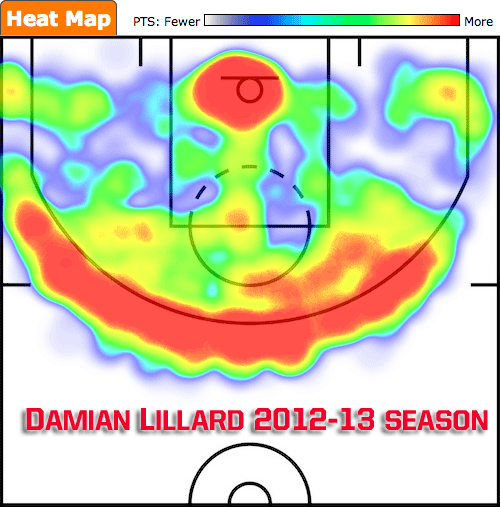 You can also see from this .gif of his two seasons of heat maps, it looks like a cyclops smiling because it's all at the basket or behind the 3-point line with him.
It's this commitment to 3-point shooting that made Lillard so effective as a relatively inexperienced player in the NBA. It was a shot he honed at Weber State for four years, making 39.0 percent of those attempts. He hasn't had a tough time adjusting to the deeper shot either. The interesting thing about Lillard's 3-point production in the 2013-14 season, when he made 39.4 percent of his attempts, is how evenly distributed they are.
Half of his attempts come from pull-up 3-pointers and the other half come on catch-and-shoot attempts. Lillard made 35.8 percent of his pull-up 3-pointers last season. Only Curry shot a higher percentage will taking at least three attempts per game. On spot-up 3-point attempts, Lillard connected on 42.4 percent, which was good for 17th in the NBA for players who took at least three per game.
Lillard is unruly with his 3-point shot, brandishing in front of the defense like a cowboy trying to intimidate patrons in a saloon. He's comfortable taking it off the dribble. He's comfortable taking it with his feet set or fading back. He's comfortable taking a 3 on a train and he's comfortable taking a 3 on a plane. He'll pull up from five feet behind the arc and not look to be using any more effort than as if he were firing off the shorter corner attempt.
The system around Lillard is spectacular. The focus of the defense is on LaMarcus Aldridge, but it's almost like a parlor trick that is meant to allow Lillard the room to operate, which in turn gives Aldridge the room to operate when the defense is left spinning in circles. And no matter where the ball is on the floor, you can rest assured it's going to move surgically before it finds the right shooter.
Lillard is blossoming in this system, but it's not because of the system itself. He's showing out in his first two seasons because his 3-point shooting can't be bothered by the defense and he's able to square up and let it fly like he's alone in an empty gym no matter what the situation is.
Based on Gentry's tongue-in-cheek price, Boston is highly unlikely to acquire the big man

Larry Hartstein is 22-11 in ATS picks for or against the Timberwolves and has a play for T...

First they were fragile, now they're dealing with 'rotation' challenges
You could say the Brazilian big man marches to the beat of his own drum

Rivers says Ariza called him to hash everything out following the heated skirmish between both...

Larry Hartstein has his finger on the pulse of Philly basketball and locked in his pick