Doc Rivers: 'Obviously we've got to make sure [Chris Paul] signs here'
Doc Rivers was introduced on Wednesday as the Clippers' new coach and joined the Doug Gottlieb Show to discuss his plans, what it was like leaving Boston and what his priority is.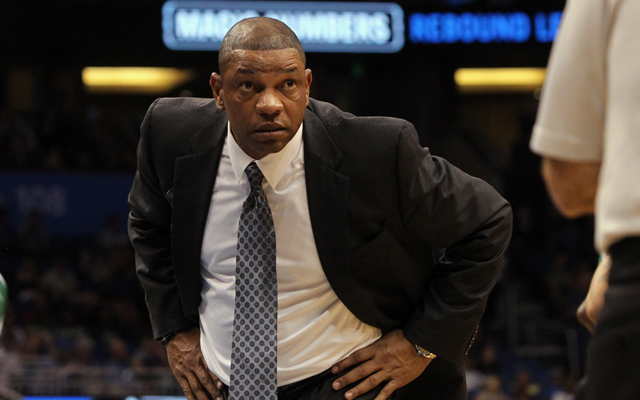 Doc Rivers' first day with the Clippers was officially Wednesday as he was introduced and held a formal press conference. 
But he doesn't have much time for handshakes and introductions. With the draft on Thursday and free agency a few days after that, he has to get to work as coach and vice president of basketball operations. 
Priority No. 1, he said: Making sure Chris Paul is back. 
"Yeah, that's been good," Rivers said on the Doug Gottlieb Show when asked if he's talked with Paul yet. "I'm looking forward to it. Obviously we've got to make sure he signs here."
One would have to assume that there's absolutely no way Rivers leaves the comfort of Boston for the Clippers unless he had an assurance that Paul was re-signing. Still, it has to be done. 
The transition for Rivers from the Celtics to the Clippers was a bit of a whirlwind, with negotiations extending out nearly 10 days. The talks intially included Kevin Garnett and DeAndre Jordan. But after the league stepped in with pesky rules, it was reduced to a 2015 first-round pick in exchange for the coach. 
It wasn't just the Clippers' thing for Rivers, though. The 51-year-old coach was considering other options as well, like retirement. But Rivers said he actually had decided on Sunday -- which is the day he was "traded" -- that he wasn't going to retire and would return to the Celtics. 
"I think what drove it a little bit was my indecision of whether or not I was going to coach or not. I've gone through that the last two or three years," Rivers said. "Danny [Ainge] and I started talking about other situations, and Danny brought up this and I thought it was something he should look into if he thought it was good for him."
Interesting note there: Rivers said it was Ainge who actually brought up the idea of going somewhere else. Rivers said Ainge had fielded calls from multiple teams interested in the coach -- teams that Rivers wouldn't identify -- and when the Clippers were mentioned, "it peaked my interest right away," he said.
In terms of leveraging out of Boston for a better situation, Rivers said that's not true. Holding the threat of retirement in his hand, Rivers said he simply was just hearing out his options. 
"I just told him he should look into it," he said. "It's not like I went in and knocked on the door and said, 'Danny, I'm out of here. If you don't trade me to the Clippers, then I'm not coming back.' We were pretty much on the same page throughout this. I get it, Doug. I understand that $21 million to pay for a team that's rebuilding. I understand that. I knew it would benefit them, and they knew that, too. I don't think anyone was selfish or all of us were selfish. You could go either way with that."
Rivers had three years and $21 million remaining on his contract. And with the Celtics facing a likely rebuild, there was a way out from that and it looked attractive. After spending nine seasons with the organization, winning a championship and endearing himself to the city, Rivers said he understands if fans are upset with his departure. 
"They have the right to do that, Doug. I don't fight that," he said. "I love the people there. Again, it wasn't like I was trying to get out. I was thinking about stepping away. It wasn't like I started this conversation. It just kind of happened."
A few reports and league rumblings indicated that Rivers had a damaged relationship with point guard Rajon Rondo that contributed to his departure. Something that Rivers attempted to shoot down.
"Not accurate at all," he said. "Again, I don't read a lot. I hear a lot. I hear it second hand about some incident Rondo and I had, I think it was three years ago. The fact that's just now getting out reflects well on our team that we don't have a bunch of leaks. It was never a fight or anything like that. I would never do that. It was what you'd have every day. I've had disagreements with Paul [Pierce] and Kevin and Rondo. But Rondo and I's relationship is terrific. We've texted back and forth since doing this thing and since I left. He is a kid that can be difficult at times, but overall, he's a terrific kid to coach."
Markieff Morris was already in line to miss the start of camp due to a pending assault cas...

The 76ers should hopefully get a lot of play out of their young guys this season

Okafor's been on and off the trade block for over a year and doesn't seem to be in Philly's...
Fisher is the fourth NBA player to compete for the Mirror Ball trophy on the show

Barkley commends the NBA, sarcastically, for extending the season and reducing back-to-back...

Enes Kanter isn't seeing much comedy in the Kevin Durant social media situation