Dwight Howard says he has no problem playing with Asik
Rockets center Dwight Howard says that he has no problem playing power forward with Omer Asik and is excited for what it can do for the team.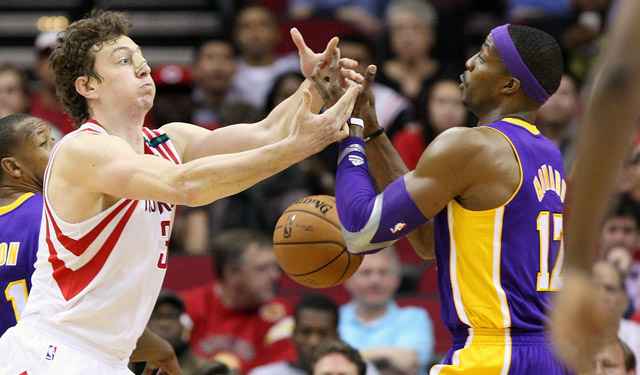 We broke down Daryl Morey's Reddit "Ask Me Anything"on Sunday, and in it he discussed the possibility of playing Dwight Howard at power forward next to Omer Asik. Focus Taiwan spoke to Howard during an overseas trip and the Rockets' new big man says he's got no problem playing power forward for spurts. 
"There is no need to adjust. I have been playing basketball for my whole life. I started it up playing a point guard," the NBA star told reporters at a press conference to welcome his third visit to Taiwan.

"I think it can make our team tougher. We need [me] being as a power forward some games and Asik being a center. We will have a big lineup, and it will be tough for teams to truly score," the 27-year-old center said.

"You have two guys to play great defense in the paint. So I think it is positive, and it is no conflict," he added.
via Dwight Howard comfortable with playing power forward | Sports | FOCUS TAIWAN - CNA ENGLISH NEWS.
It's an interesting concept, but really, this is an example of how positions are wildly inappropriate in some situations. If Howard plays next to Asik, he's not going to be posting at the elbow, nor will he be spotting up for mid-range jumpers. He's still going to be the low-post option, he'll just have Asik at his weak side to clean up. Asik's not an offensive weapon, Howard is. 
What is notable? 
Howard was resistant to playing in the pick and roll in LA with the Lakers. He's talked openly about being excited to do so with James Harden in Houston. He was never critical of Pau Gasol in LA but never seemed totally comfortable next to him. Now he's really into playing next to Asik? Basically, Howard's entire attitude has changed since joining the Rockets. That's a good thing for everyone that got tired of him but it has to irritate Lakers fans a little bit. 
Teodosic had to leave the Clippers' game Saturday night against the Suns

Irving said recently that he does not regret the profane outburst

Wade is having a rough start to his first season playing in Cleveland
Greek Freak scores career-high 44 points and reaches scary level to finish the game

It was an ugly finish as the Warriors fell to 1-2 on the season -- both Curry and Kevin Durant...

Mirotic was hospitalized with facial fractures after an altercation with Portis during pra...