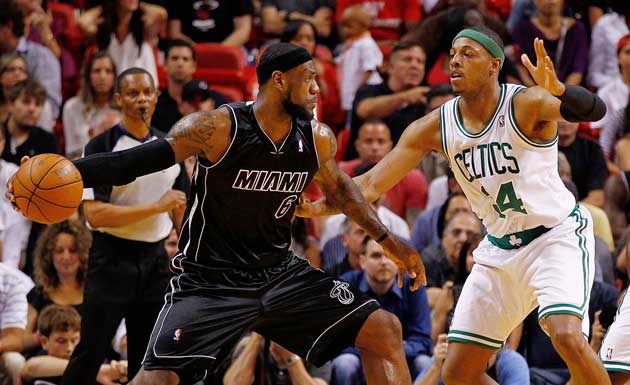 LeBron James will look to eliminate Boston from the playoffs for the second straight season. 

(Getty Images)
Previewing the Eastern Conference Finals between the Miami
Heat
and the Boston
Celtics
.
How They Got Here
Miami Heat:
 The East's No. 2 seed with a record of 46-20. Beat the New York Knicks in 5 games in the first round. Beat the Indiana Pacers in 6 games in the Eastern Conference semifinals.


Boston Celtics:
The East's No. 4 seed with a record of 39-27. Beat the Atlanta Hawks in 6 games in the first round. Beat the Philadelphia 76ers in 7 games in the Eastern Conference semifinals.




Biggest Strength



Miami Heat:
 The all-around, dominant offensive wizardry of LeBron James (29.0 points, 8.7 rebounds and 5.9 assists per game during the playoffs) and
Dwyane Wade
(23.8 points, 4.5 rebounds and 3.6 assists during the playoffs) have grabbed most of the headlines, but the Heat have returned to the Eastern Conference Finals on the strength of their defense, which was No. 4 in the regular season and ranks No. 2 so far in the postseason. Miami has not allowed more than 94 points in a playoff game and they held the Knicks and the Pacers to 78-or-fewer on a total of four occasions.
Miami picked apart New York and Indiana in different ways. Against the injury-depleted Knicks, the Heat denied and closed out aggressively on New York's three-pointer shooters,  turning Carmelo Anthony into a one-man show for long stretches. Against the Pacers, the Heat held Danny Granger to just 13.3 points on 37.7 percent shooting (regular season averages: 18.7 points and 41.6 percent shooting) and did well to hold the boards almost even (Indiana was +7 rebounding total over 6 games) despite the presence of Pacers center Roy Hibbert and the loss of
Chris Bosh
to an abdominal injury in Game 1. Much of the credit, but especially in the Pacers series, goes to James, who defended multiple positions, excelled as both an on-ball defender and a help defender in the post (2.7 steals per game), and put up big-time rebounding numbers (10.8 per game against the Pacers). 


Boston Celtics:
Just as the Western Conference Finals pits the two best offenses in the playoffs, the Eastern Conference Finals will be a showdown between the
NBA
's top-2 postseason defenses. The Celtics have posted the best defensive numbers in the postseason by slowing the game down, playing aggressive on-ball defense and by forcing its opponents to shoot mid-range or longer jumpers.
Boston hasn't really been tested so far, though, as Atlanta (No. 14) and Philadelphia (No. 17) were merely average offenses during the regular season. Miami will be a much stiffer test. The Celtics have held their playoff opponents to an average of just 83.9 points per game and never conceded more than 92 points in a game; By contrast, the Heat enter the series averaging 95.5 points per game and have topped 100 points in six of their 11 postseason games. 
Biggest Weakness


Miami Heat
: The loss of Bosh remains key for Miami as it requires the James/Wade duo to do more on offense while also demanding that at least one of the Heat's inconsistent supporting cast step up each night. So far in the postseason, we've seen three version of the Heat. The first version handled the Knicks fairly easily, despite some question marks in terms of late-game execution. The second version emerged in the aftermath of Bosh's injury, looking very tentative and unsure of who would make up for his offensive production. The third version emerged in Game 4 of the Pacers series, when James and Wade combined for a dominant 70 points. Their elite two-man play inspired Miami's role players -- first
Udonis Haslem
in Game 4, then
Shane Battier
in Game 5, then
Mario Chalmers
and
Mike Miller
in Game 6 -- to step up to provide the third and fourth scoring options Miami needed to get over the hump against Indiana.  
The formula for this latest version of the Heat is fairly straightforward but it brings with it a certain margin for error. The Big 2 must play to their peak abilities and a third scorer (preferably one of the shooters) must step up without Bosh's offensive versatility to make up for an off night from either James (who has been consistently brilliant) or Wade (who has dealt with a left knee that reportedly had to be drained during the Pacers series). 
Boston Celtics
: One of these 2011-2012 regular season rankings is not like the others. San Antonio had the No. 1 offense and the No. 11 defense. Oklahoma City had the No. 2 offense and the No. 9 defense. Miami had the No. 6 offense and the No. 4 defense. Boston had the No. 24 offense and the No. 2 defense. That's right, from an efficiency standpoint, Boston's offense is totally out of its league when it comes to the four remaining teams vying for the 2012 NBA championship. Things haven't been much better in the postseason, as Boston is currrently No. 11 out of the 16 playoff teams, ahead of New York (missing Amar'e Stoudemire and Jeremy Lin due to injuries), Orlando (missing Dwight Howard due to an injury), Chicago (missing Derrick Rose due to an injury), Utah (destroyed by San Antonio) and Atlanta (rendered hopeless by Boston's defense). 
Certainly, the Celtics have dealt with plenty of injury problems of their own that have impacted their offense. Forward
Paul Pierce
saw his scoring numbers and shooting percentages dip from his regular season averages against the 76ers as he's dealt with a knee sprain since the Hawks series.  Guard
Ray Allen
's numbers have been way off due to an ankle injury, as the sharpshooter has managed to hit just 26.7 percent of his threes in the postseason while averaging 9.8 points per game, down from 14.2 in the regular season. And the ageless
Kevin Garnett
has alternated between sensational (six 20-point/10-rebound efforts so far this postseason) and less-than-special (9 points on 12 shots in a Game 4 loss to Philadelphia; 13 points and 5 rebounds in Game 4 against Atlanta). Through it all, guard
Rajon Rondo
has stirred the drink, closing out the 76ers with a triple-double in Game 7 and posting playoff averages of 15.0 points, 12.5 assists, 6.4 rebounds and 2.6 steals. 
X-Factor

Miami Heat
: The Heat catch a break in that the Celtics don't have a true center to give them match-up problems. Frontcourt players like Udonis Haslem,
Joel Anthony
,
Ronny Turiaf
are therefore off the hook. If they simply fill their minutes, make their uncontested dunks, don't get into egregious foul trouble and don't get suspended for multiple games for doing something totally stupid, they will be fine. Against Boston and All-Star point guard Rajon Rondo, the pressure will be on Mario Chalmers a bit to be more like the "Good Mario" who knocked down three-pointers and limited his turnovers in Game 6 against the Pacers rather than "Bad Mario" who struggled with his shot early in the Pacers series and coughed up the ball five times in Game 4. The presence of James and Wade provides Chalmers lots of cover so he doesn't need to play above his head. But competency and offensive contributions will be required.
Boston Celtics
: Bradley would have been the easy choice here if healthy, as his size, quickness, instincts and desire make for a fairly good (and entertaining to watch) match-up with Wade. With Bradley out, though, forward
Brandon Bass
is the guy. Bass played a big role in wins in Games 5 (27 points and 6 rebounds) and 7 (16 points, 2 rebounds, 4 assists) against Philadelphia. With Miami paying most of its interior defensive attention to Garnett, Boston sure could use some offense (both inside and outside) from Bass. One question is whether he will be able to stay on the court for big minutes if Miami elects to use its smaller lineups for long stretches.
Match-Up Advantage
Miami Heat
: James, the 2012 NBA MVP, is a match-up advantage against every single
NBA team
but the pick in this series is Wade, who started slow against the Pacers before averaging 33 points per game over the Heat's final three wins, including a 41-point gem in Game 6. Wade never got off against Boston during the regular season (averaging 19.7 points in three games) but should thrive against Boston's depleted backcourt, as the Celtics' designated Wade-stopper,
Avery Bradley
, underwent season-ending shoulder surgery this week and starting two guard Ray Allen has been a shell of his former self because of an ankle injury that is expected to require offseason surgery. To make matters worse, Boston's bench lacks anyone who can be expected to seriously trouble Wade defensively. Indiana proved in Games 2 and 3 that Miami is beatable if you can limit or offset Wade's scoring. It's just not clear whether Boston has the personnel to accomplish that task. 
Boston Celtics
: Boston actually went 3-1 against Miami during the regular season and Rondo was a huge reason why, averaging 18.7 points, 13.7 assists and 7.7 rebounds in the three games. When he's locked in, Rondo is one of the few players capable of dictating the pace and tempo of a game against the Heat and he distributes at such a high-level in the halfcourt that Boston should have a chance if this series turns into a grinder as expected. Five times in this postseason, though, Rondo has had 5+ turnovers. Philadelphia was able to make Boston pay for those, but only slightly. Miami will thrive in the open court unless he can better secure the ball. (In Boston's two wins over Miami, the Celtics averaged 9 turnovers. In their loss, the Celtics had 20 turnovers and Rondo had seven of them). Given the various injuries and ailments surrounding him at this point of the season, Rondo will need to find a way to score himself too. He delivered the knockout blows agains the Sixers from the perimeter so he should enter the Eastern Conference Finals with full confidence in his shaky jumper.



Will Win If...


Miami Heat
: The Heat will win if they don't take any major steps backwards from the semifinals series and don't lose James or Wade to injury. Their basic formula boils down to technically-sound team defense plus explosive offense from the All-Star duo plus one auxiliary weapon pitching in to put them over the top. That should be enough against the battered, bruised and aging Celtics, who were eliminated by the Heat in five games in the Eastern Conference semifinals last season.
Boston Celtics
: Boston enters as a fairly heavy underdog after looking less impressive than Miami in the first two rounds, after getting pushed to seven games by the East's No. 8 seed and with memories of Miami's athletic explosion against Boston during last year's playoffs still fresh in the mind. To make matters worse, Boston has just 48 hours to prepare for Game 1 in Miami against the Heat, who have been resting since a Thursday night closeout win over the Pacers. To overcome those odds, Boston needs a lot to go right: Rondo must be a singular maestro, Allen's shooting stroke needs to return as it did during the second half of Game 7, Garnett needs to deliver three (and preferably four) signature performances over the course of the series and the Celtics must protect the ball and turn this into an ugly halfcourt dogfight. Obviously, that's asking a lot. But Miami is unlike anyone Boston has seen to this point.
Prediction:
Heat in five.