For once, the Knicks' problems aren't the disease but the symptoms
How New York couldn't have seen the misery that has become their season, and why it's not Melo's fault.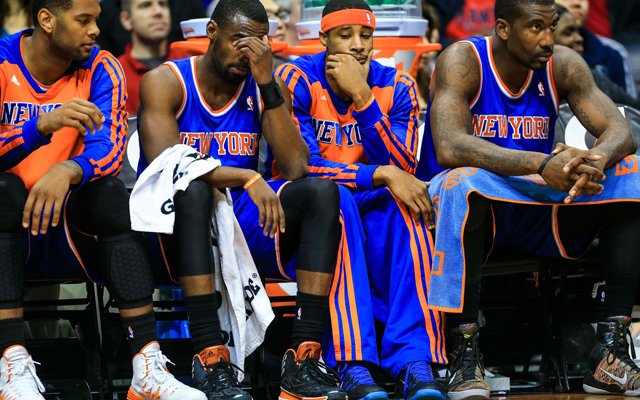 Truth be told, I expected the New York Knicks to crumble and fall. I believed that the model was unsustainable, the hubris too great, the shortcutting too cute and the design too self-aggrandizing to hold, let alone succeed. Building around Carmelo Anthony's isolation-heavy tendencies and J.R. Smith's excessive freelancing was sure to bring doom at some point. Even after the surprise of the early parts of the 2012-2013 season and their scorching April, there were signs that the Knicks were not the heavyweight they pretended to be.
Run by CAA, owned by the meddlesome, impatient, at-times irrational James Dolan, and lead by an inefficient scorer who didn't defend ably, how could the Knicks succeed?
So as the Knicks enter Thursday's game against Miami, it's simple right? All that turned out be true, and the CAAmelot turned out to be nothing but a dog show.... right?
Here's the thing.
None of that happened.
It hasn't been Melo's ball-stopping that's hurt New York. In fact, Anthony may have put together his best overall season, if you value shot selection. He's attacked the rim, gone after his own rebound, stayed within the flow of the offense. That he's adapted this kind of game inside such a disaster of a season is a cruel twist of fate, like it belongs in an Alanis Morrisette song. It also provides evidence for those who say Melo's jab-step-to-heaven approach has never been a problem.
You can argue this Knicks team was never well positioned to work with Anthony, regardless of how many touches you think Anthony needs. There are no lights out shooters, there are no alpha dog point guards, there are no dynamic slashing power forwards (since Amar'e Stoudemire's body betrayed him). Would a point guard who could run the offense and stand up to Carmelo to ensure he plays within the flow of the offense help? Absolutely.
But look at what they did give Anthony. A pick-and-roll capable point guard in Felton. A playmaker Pablo Prigioni who should be able to replace Jason Kidd's production at his age last season, young slashers in Iman Shumpert and Tim Hardaway Jr., the tough veteran bruiser in Kenyon Martin, and the defensive stalwart and pick-and-roll finisher in Tyson Chandler.
And whatever the hell it is J.R. Smith is supposed to do. That I can't explain.
Above all, they're all veterans (save for THJ). The Knicks are consistently criticized (and rightfully so) by building a team made of guys up there in age, but if you look back at successful playoff teams, particularly on defense? They're all made up of guys with experience.
So with Anthony playing more the style that helps him succeed, and J.R. Smith taking a lesser role since he's fallen off the planet in terms of usefulness, this should have worked. You can argue that they shouldn't have given Denver the treasure chest they did in the Melo trade, that they should have kept those picks; I agree. But those picks are why they can't fix this mess, not why they're bad this season.
Knicks homers on the internet freaked out when projections for this Knick season had them significantly lower than last season. But those projections, even my own 47-wins, were based on what we talked about above; that the Knicks' model was flawed, that last year was a fluke, that this team wasn't as good as it seemed... but it was still "good." Even the 37-wins projection from ESPN's SCHOENE project would put them just behind the Hawks in win percentage right now.
But when you look at what's happened this season... there's very little science to this. You could expect some things to go wrong. J.R. Smith's horrific shot selection and questionable on-and-off-court decision making could have wound up like this, combined with his knee injury, his performance could have happened. Tyson Chandler could have taken a step back, and suffered through myriad injuries; he's never been the healthiest dude. Raymond Felton could have lost his confidence, struggled to maintain conditioning, had an off shooting year. Iman Shumper could have feuded with his coach, struggled to stay within the team's defensive concepts. Prigioni could have been revealed as simply a pest and not a difference maker, Amar'e could have been unable to stay on the floor, Andrea Bargnani could have still been horrible in overall impact even as his shot came through.
But all of these things? At once?
The Knicks were never going to be as good as they were last year, when a better team than this won more games than they should. 
The Knicks didn't plan for their future. They didn't leverage their assets well. They didn't keep long-term flexibility. And they poisoned their culture by cowtowing to CAA and giving Melo whatever he wanted, by trusting in fundamentally solvable offense. But the collective failures of this season are nearly inexplicable. It's not that what's gone wrong wasn't predictable, it's that all of them going wrong, at once, was beyond reasonable expectation. You can blame the Knicks for living in the valley and not having flood insurance, you can blame them for liquidating their retirement plan to build the house, you can blame them for building a bad house to begin with. But the flood?
The flood was just one of those things.
Known for his 'take that for data' rant, the Grizzlies coach touched on a number of important...

Wade's days with the Chicago Bulls appear to be numbered

Misty Suri will reportedly keep his job with the New Orleans Pelicans
The MVP has better things to do with his time, but the former NFL receiver isn't taking 'no'...

Randolph was arrested last week in Los Angeles on felony marijuana charges

Bagley wants to be in the 2018 NBA Draft and should be the No. 1 overall pick