Free-agency grades for Friday, July 4: Patterson, Hawes agree to deals
The market for sweet-shooting bigs just got a lot thinner.
by

Eye on Basketball staff

• 3 min read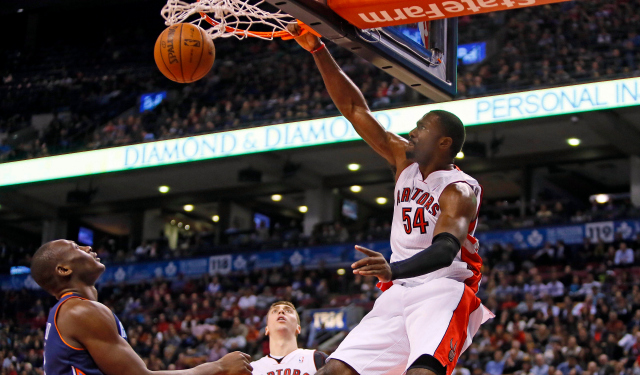 More Offseason Analysis: Updating Free Agency news | Top 40 free agents
A look at the deals from Friday, July 4 in NBA free agency, where Patrick Patterson elected to re-sign in Toronto and Spencer Hawes went Hollywood. 
Free agent ranking: 45
Team: Raptors | Deal:  3 years, $18 million 
Comment: In the modern NBA, there are power forwards and there are stretch forwards. And they are not the same, and one is becoming a lot more common than the other. Say you're facing the Spurs. And they deploy their lineup with Boris Diaw (should he re-sign). He can hit from the perimeter. So you have to have a four on the floor who can defend to the perimeter, and also rebound and defend in the post.
Or say you're playing Indiana, and they're bruising you inside. Your guards are getting hammered every time they go in the lane by multiple defenders, they need some space. You need a four on the floor who can get David West or Luis Scola out of the paint to create some room vs. their interior defense.
That's the value of Patrick Patterson.
Patterson is a smart, efficient stretch four who can hit the corner three and has upside potential as a versatile defender and rebounder, still. His best games are ahead of him. $6 million per year sounds like a lot until you realize Jodie Meeks got that and Chris Kaman got $5 million. This is the market. Toronto needs him and in Toronto, he's found some stability, which he's earned.
Patterson has been underrated since his second season, when he figured out his role. The Raptors have just become the team to realize his value. A heads up: When one of the smartest front offices in the league commits money to keep you on board quietly? You're probably underrated. Grade: A+
Free agent ranking: 42 
Team: Clippers | Deal: 4 years, $23 million 
Comment: The Los Angeles Clippers needed a big man in free agency. Badly. They trotted out a who's who of formerly effective rotation players in the frontcourt last season as soon as Blake Griffin and/or DeAndre Jordan went to the bench. They'd acquired Byron Mullens and Antawn Jamison last summer, but both were dealt by the trade deadline. They signed Stephen Jackson, Hedo Turkoglu, Glen Davis and Danny Granger during the season. If there was one thing Los Angeles needed to acquire this offseason, it was a reserve who could be relied upon. Spencer Hawes is that reserve.
Hawes is a true stretch big man, a 7-footer who shot 3.9 threes per game last season and made made 41.6 percent of them. He rebounds well, and he can make plays out of the high post. Hawes is smart and versatile on offense, and he'll give Chris Paul and Griffin even more room with which to make plays. The price tag and length of the deal make sense, given that he's 26 years old and had several suitors for his shooting.
The question is what kind of a defender Hawes will be in Los Angeles. He's struggled on that end for most of his seven-year career, but I can't help but think things could improve with the Clippers.
This team has the talent to contend with the West's best, and a strong culture that starts with president and head coach Doc Rivers, Paul and Griffin. Hawes has not experienced much postseason success in the NBA, and he reportedly chose this scenario because he wanted a chance to win. If he's truly motivated to be an effective part of the defensive system, this contract could look more than fair. If he is essentially a one-way player, Los Angeles could eventually wind up looking for more reinforcements. Grade: B+
Trevor Ariza and Gerald Green are reportedly both suspended two games

We've got all the scores, highlights and news from the night's games

Jonah Keri talks with NFL and NBA broadcaster Ian Eagle
SportsLine simulated Wednesday's Nuggets-Clippers game 10,000 times

Galin Dragiev has his finger on the pulse of the Lakers and just locked in a play for Wedn...

No more McNuggets allowed in the Barnes household