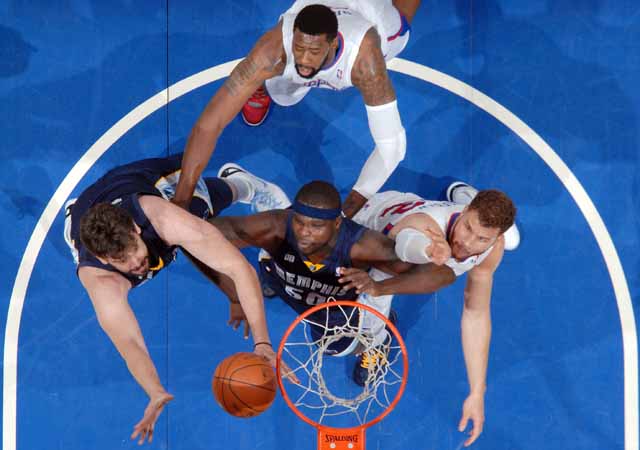 The battle down low continued in Game 6 with Memphis coming out on top.
(Getty Images)
This series is about inches, and milliseconds, and beads of sweat. There has not been, nor will there likely be two more evenly matched teams in these 2012 NBA playoffs. And in the end, when the
Clippers
finally looked like they had the team to change the narrative of their season, of their franchise, of their legacy, everything happened that has happened throughout their history. 
Memphis 90 L.A. Clippers 88
. See you Sunday in Memphis for Game 7.
The painful thing is the Clippers had it. Despite their offense not humming well for 3/4 of the game, despite injuries to
Chris Paul
and
Blake Griffin
hampering their impact, despite tremendous play from
Marc Gasol
, the Clippers lead by 8 in the fourth quarter. Memphis kept running against the clock.
Reggie Evans
was doing what he's done all series, play like a legitimate
NBA
bench spark plug as
Eric Bledsoe
made huge play after huge play in his first close-out game opportunity in his career.
It was all going so well.
And then.
Memphis scored seven points in a little over a minute and the lead evaporated. From there, it was a comedy of errors worthy of the Clippers name and a series of disappointing developments due to the same thing that's created what's called the "Clippers curse," injuries.
Randy Foye
diving hard to get a rebound off a free throw and landing out of bounds with 24 seconds left. Evans, who had given such great effort until that point, failed to get back off an inbounds, leading to a bad call on a Chris Paul foul on
Tony Allen
. That was maybe the biggest play of the game to set up the Memphis win.
But there were other things Memphis did. After a terrible game,
Zach Randolph
delivered in a huge way in the fourth, shaking and baking and Z-Bounding his way to the bucket.
Mike Conley
made smart play after smart play, and knocked down a killer three to give the
Grizzlies
a late lead. The Grizzlies got back to what they do best. They grinded out a win with hustle, offensive rebounds, putbacks, and effort. They had the extra push that a team facin elimination needed. The Clippers just didn't have the poise they had in Games 1 and 4.
So both side has things going into Game 7 to say why they should have won this series already. The Clippers have injuries and calls and a Chris Paul series of turnovers in Game 6. The Grizzlies have injuries and calls and a fourth-quarter improbable collapse in Game 1.  But none of that matters now. 
It's 0-0. No more excuses, no more flopping (yeah, right), no more opportunities. One team heads to San Antonio on Monday, another team heads home trying to understand what went wrong. These two franchises are filled with a history plagued with disappointment and heartbreak. One of them gets to break the narrative for a few weeks more.