Hall of Famer Alonzo Mourning: Journey down the rabbit hole
With the news that Alonzo Mourning is reportedly headed to the Basketball Hall of Fame, we've decided to journey down the rabbit hole with his career.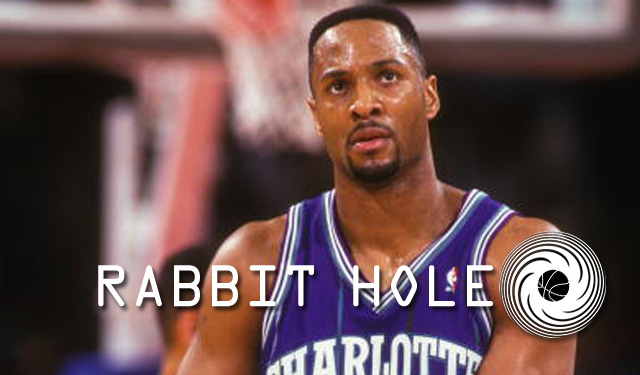 More NBA: Power Rankings | Expert Picks | Latest news & notes
One of the most celebrated parts of the NBA and the game of basketball in general is the slam dunk. It's one of the most powerful and awesome displays of athleticism you can see in any sport. When done properly, the slam dunk can bring an entire culture to its knees. We've seen Vince Carter do it, we've seen Michael Jordan do it, and we've more recently seen Blake Griffin do it. But there was always one man intent on taking that joy away from us and we loved him for it.
In what has probably been long overdue, let's journey down the rabbit hole and see what fond memories we can see of Alonzo Mourning denying us our entertainment.
First Stop: Alonzo Mourning is headed to the Hall of Fame
On Thursday, we started to see rumblings of the players who have been voted into the Dr. James Naismith Basketball Hall of Fame for the 2014 class. Tim Hardaway Sr. and Spencer Haywood sadly have not made the cut, but Mitch Richmond and Alonzo Mourning are reportedly on their way to being enshrined. Mourning even had some confirmation in the form of former teammate Dwyane Wade congratulating him with an Instagram shot of the two in their Miami Heat jerseys.
As Matt Moore noted in the post linked above, the career accomplishments of Mourning probably went under covered but they are plentiful and really quite impressive:
Mourning played 15 seasons in the NBA, averaging 17 points, 8.5 rebounds and 2.6 blocks per game, including 11 with Miami. He was a McDonalds All-American, a three-time All-American at Georgetown, a two-time Defensive Player of the Year, and finished in the top three of the MVP voting twice. He won a championship with the Heat in 2006.
Mourning mission during his career was to protect the rim. He wanted to win and he wanted to be one of the best in the league, but everything in his game and on-court personality stemmed from him being someone who wasn't going to allow access to the rim. He was one of the most intimidating shot blockers we've ever seen, often flexing his muscles following a swatted attempt that he made look feeble in comparison to his own strength. 
Alonzo Mourning was a force of nature
When Mourning went to Georgetown, he had some mighty big shoes to fill at the center position. It had been three years since Patrick Ewing had moved on to the NBA, and John Thompson finally had a big time center recruit come in to be the anchor and the personification of the toughness Georgetown basketball was supposed to exude.
In the three years between Ewing and Mourning, the Hoyas blocked 349 shots as a team. Mourning erased 169 shots by himself his freshman year. His second year, fellow sophomore Dikembe Mutombo emerged as the top defender, which lowered Mourning's block total to just 69 blocked shots. But the team was nearly impossible to score against inside.
Mourning was agile enough to defend all over the floor and challenged outside shots like the original prototype for how they eventually manufactured Anthony Davis. The cool thing is you watch a lot of full games from these old Georgetown days. 
-- There's the 1989 NCAA Tournament showdown between the 1-seed Hoyas and the 16-seed Princeton Tigers. Mourning had 21 of the team's 50 points in a close victory. A couple of notable items from this game. In the pregame studio show, they told us about a telephone poll the NCAA was conducting to see if fans liked the length of the college 3-point shot. Here are the results: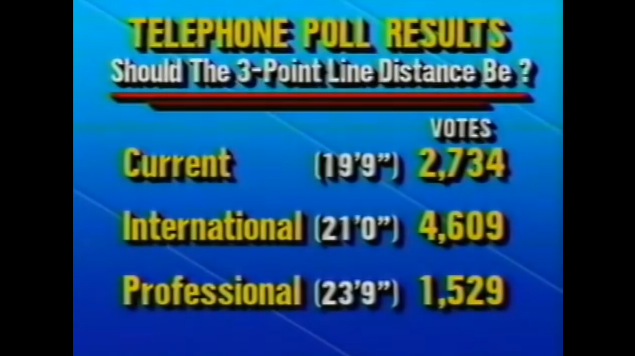 Technology!
And with Princeton losing by one point with 15 seconds left, the Hoyas got two key stops on the final possession, highlighted by this clutch Mourning block on the perimeter.
It helped avoid the biggest upset in NCAA history.
-- You can also check out this pretty incredible game from the ACC/Big East challenge in which the Hoyas took on a North Carolina team led by Rick Fox, King Rice, Scott Williams, Pete Chilcutt, and Hubert Davis.
Alonzo Mourning was one of the top centers of his generation
There was always the elite group of centers with Shaquille O'Neal, Hakeem Olajuwon, David Robinson, and Patrick Ewing in the 1990's. It's debatable whether or not Zo deserved to be included in with those guys, but he was his own force of nature, even when matching up with those all-time greats. What Mourning may have not possessed in terms of quickness and agility like those guys had, he made up for in hard work and carnal strength.
He wasn't afraid of big moments either, including this winner in his rookie season during the 1993 playoffs. Mourning hit a step-back jumper from the top of the key to bury the Boston Celtics.
He was even a part of one of those spectacular 1990's music video hybrids with a rapper named Domino for the hit song "Jam." And by hit song, I mean if the NBA hadn't thrown Domino a bone here, he may have never heard of again.
The fan shots in this video alone make it worth the click.
It wasn't long before he was one of the best centers in the NBA and challenging for MVP awards as a member of the Miami Heat after being traded from the Charlotte Hornets in a blockbuster deal for Glen Rice. It was in Miami where he made his next big step.
Mourning would eventually finish 11th all-time in blocks, just five behind Robert Parish to be top 10. You don't get that many blocks without having a target on your head over and over again.
I don't recommend trying to dunk on Zo
If you wanted to be turned away at the rim, you went to Zo. He wasn't about to just let you create a highlight that benefitted you and your team. Sure, he'd get dunked on plenty of times in his career, but you were going to have to earn it. 
What better way to celebrate his incredible timing and shot blocking ability than his highlights set to some house music? It's like you're in South Beach!
On the top 10 dunk attempts on Alonzo Mourning video, you had a lot of guys just trying to tomahawk over the big man with as much power as they could possibly muster. Maybe they thought if they could break his hand in the process, they'd be able to throw it down at the rim. Instead, they usually ended up on the floor in a pile of sadness and rejection.
Michael Jordan certainly wasn't afraid to challenge Mourning, especially early in the center's career. He had to establish that even great shot blockers had to get dunked on from time to time, which he gladly did. In this early game of Zo's career, Jordan baptized Mourning twice in the same game with the second one being ferocious.
Mourning did manage to get Jordan back though. Sure, it was when Jordan was still coming back from playing baseball and he was wearing No. 45, but a challenge is a challenge.
He was always a protector of the nets though. No, not these Nets. The nets on the rim. He hated people that weren't him attacking those poor defenseless nets. 
And he was always willing to give advice to the "younger generation" like those guys who came into the league one year after him as the number one pick in the draft.
Alonzo Mourning's NBA Finals speech is still legendary
After a battle with NBA centers for a long time and a kidney disease that didn't just threaten his career but threatened his life as well, Mourning finally got a chance to win a championship with the 2006 Heat. He was a role player then but still a pretty important part of that team. His minutes were limited but his impact was immense. 
The Heat beat the Mavericks in six games and it allowed us to witness a pretty incredible outpouring of perspective and emotion from Mourning as he talked about his journey and becoming an NBA champion.
Thank you for your amazing career, Zo. The fans have always loved you.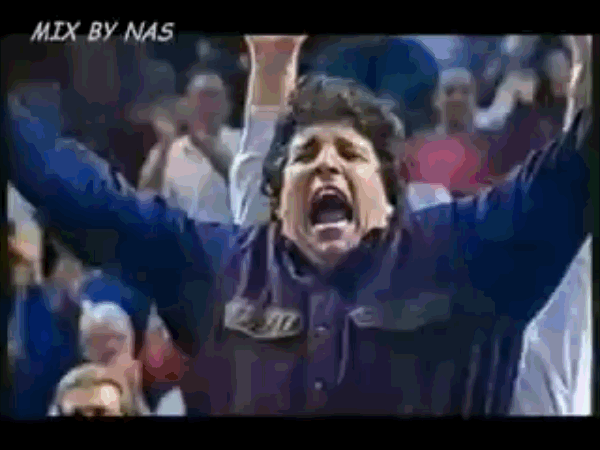 A dive into the NBA history books for every result from every NBA All-Star Game

James set the tone during practice that this year's All-Star game was going to be differen...

The 76ers center handled 'mismatches' like they were nothing
LeBron James says he will continue his social activism no matter what people say about him

The 76ers guard is in hot water after a controversial video surfaced showing him using a racial...

LeBron James earned his third career All-Star Game MVP award