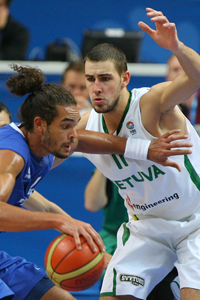 The NBA is finally getting its look at 2011's fifth overall pick.
(Getty Images)
Some people probably already kind of forgot about the fifth overall pick from 2011. Jonas Valanciunas, a gifted 6-11 big man from Lithuania, had a complicated buyout situation and remained in Europe for the 2011-12 season.
Well, now he's coming to the NBA. Officially.
The Raptors announced they have signed their 2011 top pick to his rookie contract which means he will join the team for training camp.
Valanciunas, 20, is a multi-skilled power forward/center that is clearly a potential stud. He's had NBA teams watching him for some time and the Raptors were willing to be paitent and take their chance on picking him fifth last season.
He spent last season with Lietuvos Rytas and has closed on a reported $2.4 million buyout to sign in Toronto. The Raptors are allowed to pay $550,000 of that.
He fills a massive hole for the Raptors next season, providing a defensive shot-blocking presence inside to help offensive-minded Andrea Bargnani. Last season, Toronto spent time with Jamal Magloire and Amir Johnson at the 5. Immediately the Raptors are better inside, even if Valanciunas is somewhat of an unknown. Everyone knows he can play. How well is the question.
So essentially, the Raptors landed two lottery picks this offseason adding Terrence Ross with the eighth pick and Valanciunas now from the 2011 draft. Toronto has been busy this summer adding young pieces, signing Landry Fields and trading for Kyle Lowry.
Could they potentially be a dark horse Eastern playoff team? Possibly. Dwane Casey has done an excellent job of installing a new culture and if some of their current players step up and produce -- Bargnani, DeMar DeRozan, Ed Davis, et al -- the Raps have an intriguing core of young talent.