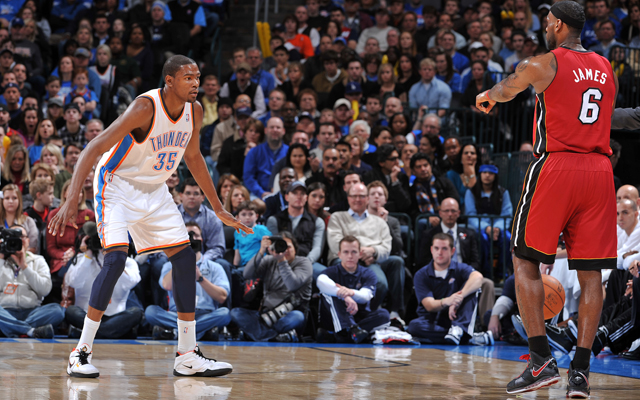 Kevin Durant has had enough with being the bridesmaid. He's tired of being runner-up. Done playing second fiddle. Done with finishing second. 
In this week's Sports Illustrated, Durant is on the cover for a fifth time, but with a pretty powerful quote.
"I've been second my whole life," the Oklahoma City Thunder star told SI. "I was the second-best player in high school. I was the second pick in the draft. I've been second in the MVP voting three times. I came in second in the Finals. I'm tired of being second. I'm not going to settle for that. I'm done with it."
(Nobody tell Durant he finished second in scoring this year. And second on his own team in shot attempts.)
The problem for Durant? This guy named LeBron James. Durant hasn't actually finished second to James in MVP three times, yet. But he knows James is destined to take home a fourth MVP, and Durant is likely to be voted second.
Durant is friends with James, and a lot has been made of that. Some have wondered if because of their friendship, Durant lacks the same killer instinct with James that he has with everyone else.
"I'm not taking it easy on [James]," Durant says. "Don't you know I'm trying to destroy the guy every time I go on the court?"
The stats back Durant up. While his Thunder have fallen six straight times to the Heat -- including four consecutive times in the Finals -- the blood isn't on Durant's hands. In those six losses, he's averaging 31.7 points on 52.7 percent shooting. James hasn't outplayed Durant. The Heat have just outplayed the Thunder.
The taste of defeat from last year's Finals changed Durant in a lot of ways, but more than anything, it's only made him hungrier. Getting to dream and actually think about raising a banner, only to lose four straight games, has to be the worst feeling ever. And the most incredible motivation.
You saw how the 2011 Finals changed James. He didn't come back as a new player from it necessarily. Just a changed player. There was a new motivation to his game. He rediscovered himself and forced his mind to only focus on one thing.
Now, Durant's got that type of approach. He's proven himself a star, proven himself one of the two best players in the world. But now, he wants more. He wants to be first.