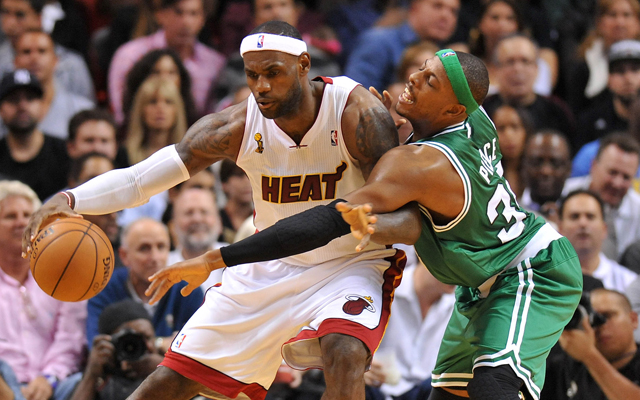 Kobe Bryant? Nope.
Kevin Durant? Nope. 
Carmelo Anthony? Nope. 
LeBron James' biggest rival according to LeBron? Paul Pierce. 
Via MassLive, LeBron spoke to NBATV recently and was asked who he considered his biggest rival, and while he kind of side-stepped it, he ended up saying Pierce. 
"I would say that I don't really have an individual rivalry. I think the closest would be Paul Pierce," James said. "I would say Boston is a rival of mine because I've met them so many times in the postseason. I've been able to advance against them, they've sent me home fishing a few times. So I would say Boston and Paul Pierce would kind of be that guy, if I had to name just one guy."
LeBron has indeed shared a number of battles with the Celtics and Pierce, going back to 2008 when they tangled in Game 7 of the Eastern Conference semifinals. In that game, LeBron dropped 44, but Pierce had 41, including a pair of free throws to seal the game in the final seconds.
After the game, LeBron said this:
"I think the second round of the postseason, Game 7, these fans will finally have an opportunity to forget a little bit about what Larry Bird and Dominique Wilkins did," James said, "and remember what Paul and LeBron did."
LeBron is obviously referencing the 1988 Game 7 showdown between Bird and Wilkins where the two traded baskets for virtually 48 minutes. 
There's also the 2010-11 playoffs where LeBron finally overcame the Celtics and advanced to the Eastern Conference finals to play the Bulls. And then, of course, last postseason where LeBron and the Heat took down Pierce and the Celtics in Game 7 of the Eastern Conference finals. 
Everyone wanted LeBron to be rivals with Kobe, but as he pointed out in the interview, rivalries are often built in the postseason. Durant and LeBron have met once, in the Finals. Pierce and LeBron, on the other hand, have met four times in the last six postseasons. Playing and competing against the same guys for two straight weeks -- for potentially seven straight games -- will do that. 
"When you look at Wilt and Russell, they met multiple times in the Finals. Same with Magic and Bird. Unfortunately, [Kobe and I] never had an opportunity to meet in the Finals," James said in the interview. "I think we've had some really good regular-season games against one another, but I don't think two games a season; it's not enough to classify as a rivalry."