LeBron, Wade say Haslem will start against Pacers
Udonis Haslem on Roy Hibbert: "I got to work him."
• 1 min read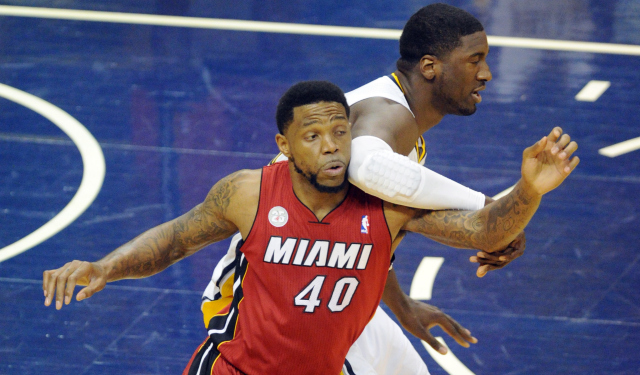 While Miami Heat big man Udonis Haslem and head coach Erik Spoelstra both kept quiet about it on Friday, Miami stars LeBron James and Dwyane Wade told reporters that Haslem would be a starter when the conference finals begin against the Indiana Pacers.
Is a Udonis Haslem starting against Indy? Erik Spoelstra: "We'll see." Haslem: "Ask coach." LeBron: "Yep."

— Jason Lieser (@PBPjasonlieser) May 16, 2014
LeBron and Wade say they expect Haslem to be back in starting lineup. Spoelstra indicates all options open - even Oden in rotation.

— Michael Wallace (@WallaceNBA_ESPN) May 16, 2014
Adjusting the starting lineup has been a Heat hallmark over the last few postseasons, and this change seemed fairly obvious. Haslem, who started against the Charlotte Bobcats in the first round and played a total of three minutes in five games against the Brooklyn Nets, did an excellent job defending Indiana's Roy Hibbert when the teams last met in April. In that game, Haslem played 31 minutes and held Hibbert to five points on 2-for-7 shooting, pushing the center out of his comfort zone near the basket.
In last year's seven-game battle with the Pacers, Haslem had a pair of 8-for-9 shooting nights, Miami's Game 3 and Game 5 wins. He knows that his main job is to contain Hibbert, though, as the 7-foot-2 All-Star presents problems for the Heat's small frontcourt. From the Miami Herald's Joe Goodman:  
"I got to work him," Haslem said of Hibbert. "I got to make everything tough. I can't give him anything easy. I've got to be ahead of every play. I got to be mentally and physically on top of it and it's got to be a grind."
The 11-year veteran played a career-low 14.2 minutes per game this season, and only started 14 times. Haslem's role has diminished drastically in the past few years, but he'll be counted on come Sunday.
The versatile forward has one glaring weakness, but Toronto can see it turning into a stre...

The investigation detailed a hostile workplace environment

Cousins suffered a torn Achilles tendon on Jan. 26, and will miss the rest of the season
Ingram has become one of the team's go-to players with Lonzo Ball sidelined with an injury

Giannis skipped EuroBasket last summer, and has missed four games this season with knee so...

Some of the best and worst from the league as we head into the home stretch of the season