Mario Chalmers: 'I don't remember throwing an elbow' against Parker
Heat guard says he doesn't remember throwing an elbow which earned him a flagrant foul vs. Tony Parker, admits to frustration with foul trouble vs. San Antonio.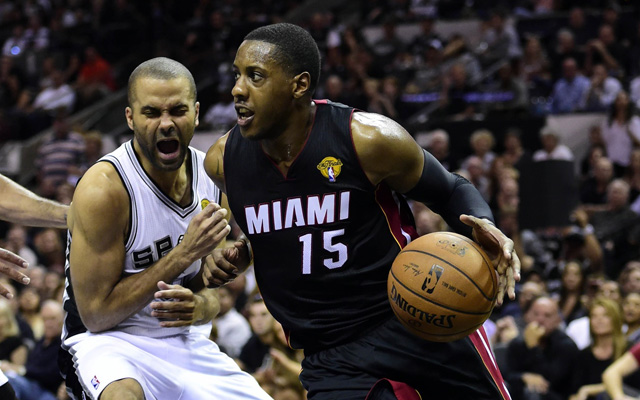 After being called for a flagrant foul for an elbow to the Spurs' Tony Parker in Game 2, Miami Heat guard Mario Chalmers said after the game he didn't "remember throwing an elbow."
"I don't know (what happened)," an incredulous Chalmers said after the game. "They say I hit him with an elbow, but I don't remember throwing an elbow, I was just trying to get to the rim."
The play was called as a flagrant foul, and after video review, it was confirmed. Parker missed two free throws that helped turn the tide of the game, then exited for a rest shortly thereafter. 
Chalmers was tagged with three fouls in Game 2 and admitted to being "frustrated" with how the games have been called so far in the series. He finished with five points and four assists in Game 2, a 98-96 Heat win to even the series 1-1.
The Rockets not only spared fans of another blowout, they also made the WCF much more inte...

Houston was left for dead, but resurrected itself through sheer will to win Game 4

Here's how to watch every NBA postseason game online or on TV
The conference finals are well underway in the 2018 NBA playoffs

We brought back NBA Jam to show you how these teams can win it all

Everything you need to know about the No. 1 vs. No. 2 playoff matchup in the Western Confe...