Mark Cuban says he's flattered he could have made a difference in Deron Williams' decision
Mark Cuban tweaks Deron Williams over comments that his absence at a meeting in free agency swayed Williams to re-sign with the Nets.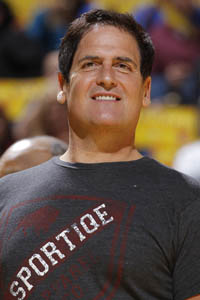 "Come at me, Prokh." (Getty Images)
Deron Williams initially said that the biggest reason he re-signed with Brooklyn was because he believed in what the Nets were doing and the message GM Billy King gave him on the future of the franchise. 
Then it became about how they traded for Joe Johnson and how that really convinced him to commit to Brooklyn. 
Then this week, it turned into being about how Mark Cuban skipped the free agency meeting with Williams to instead attend the taping of the television show "Shark Tank." 
We had wondered why Cuban would bail on such an important meeting and risk losing Williams, whom many thought was leaning toward his hometown Mavs. It was assumed that Cuban felt the decision had already been made so he felt no reason to attend. After Williams questioned the decision this week, Cuban fired back before the Mavericks' preseason game Tuesday, in, well, the most Cuban way possible. From The Dallas Morning News:  
"I'm a big D-Will fan, but I'm kind of surprised that he would throw his front office under the bus like that by saying that I would make a difference,'' Cuban said before the Mavericks' exhibition game against FC Barcelona Regal. "I would have expected him to say -- like I'd expect one of our guys to say -- 'Hey I'm so thrilled with the front office and the moves we made and our team that it wouldn't have mattered what he did.'

...

"I'm flattered that he thought my presence would have made more of a difference than what the Nets' management did.''
via Mark Cuban "flattered" that D-Will thinks his presence would have made a difference | Dallas Mavericks Blog.
Nice, Cubes. Real nice. 
It's a humblebrag from Cuban, asserting that basically had he shown up, he could have delivered Williams. That, of course, wasn't the case. Both sides can talk about whatever they want, but that extra year at the max-salary that the Nets could offer was the biggest factor. You don't have to be a basketball genius to figure that out. 
The rivalry between the Nets and Mavericks could be a really good one for years to come if both teams remain competitive. 
They won't meet until March 1. 
CBS Sports HQ Daily Newsletter
Get the best highlights and stories - yeah, just the good stuff handpicked by our team to start your day.
Please check the opt-in box to acknowledge that you would like to subscribe.
Thanks for signing up!
Keep an eye on your inbox for the latest sports news.
Sorry!
There was an error processing your subscription.
Seven of the players ranked in our top nine play in the stacked Western Conference

Minnesota reportedly turned down all trade offers, telling inquiring teams that it plans to...

In the past year, the Suns have traded away Eric Bledsoe and Brandon Knight
Luke Walton says L.A. will play it safe with Ball, who underwent a knee procedure in July

Johnson and Rob Pelinka spoke to the media at a press conference on Thursday afternoon

DeRozan reunited with his old Toronto teammate on the big man's cooking show