Mark Cuban suffers setback ahead of insider trading trial
Dallas Mavericks owner Mark Cuban has suffered a legal setback ahead of his Sept. 30 trial on insider trading charges.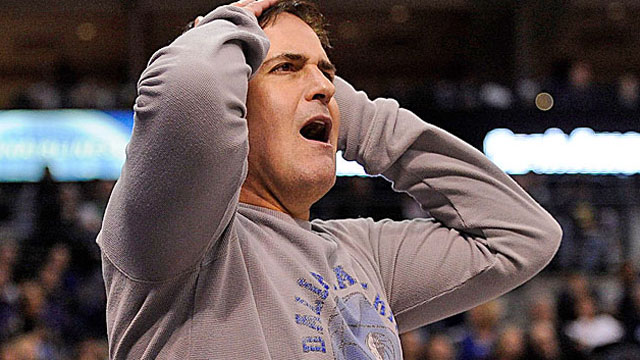 Mark Cuban's lawyers will not be permitted to use additional measures to weed out potential jurors based on pre-trial publicity about the billionaire Mavericks owner's insider trading case, a Texas federal judge has ruled.
In a defeat for Cuban ahead of his trial set for Sept. 30 in the U.S. District Court for the Northern District of Texas, U.S. Chief Judge Sidney A. Fitzwater ruled on Tuesday that the normal procedure for quesitoning potential jurors will suffice. Cuban's attorneys had argued in an Aug. 12 motion that potential jurors should fill out a questionnaire quizzing them on issues such as their familiarity with Cuban and the charges against him. In the absence of a questionnaire, Cuban's lawyers had asked Fitzwater to allow for an additional 30 minutes of oral jury questioning per side prior to the seating of the jury. 
Fitzwater denied the motion, writing in an order: "The court concludes that its usual three-phase process will be sufficient to address the concerns raised in Cuban's motion." The third phase of jury questioning, known as voir dire, allows attorneys from either side to request further individual interviewing of potential jurors.
(Note to reader: I understand that this is a boring legal story about things you don't care much about. So those of you who are kind enough to read this to its completion will be rewarded with the obligatory My Cousin Vinny reference.)
The Securities and Exchange Commission has accused Cuban of failing to disclose plans to sell 600,000 shares of stock in the search-engine company Mamma.com after its CEO divulged confidential information to him about an upcoming equity offering. By selling his shares, the SEC alleges that Cuban avoided a loss of $750,000.
Cuban has denied the charges, saying he never hid his intentions to sell the stock and that the information about the equity offering was public and not relevant to reasonable investors.
According to the legal website Law360.com, one of Cuban's attorneys, Stephen A. Best, said in a statement: "We asked for the court's consideration of a questionnaire to ensure Mr. Cuban receives a fair trial. It appears that the court believes it can assist in the jury screening process without such added protections. We hope so, and remain committed to doing everything necessary to ensure Mr. Cuban a fair and impartial trial in his community."

Cuban "looks forward to a trial on the merits as he has always maintained he has done nothing wrong," Best said.
It's unclear how much of a setback this will be for Cuban at trial. One can only hope that one of his attorneys has a New York accent and will have a chance to say during pretrial hearings, in the immortal words of Vincent LaGuardia Gambini, that he needs more time to "vwhah dyuh da witness." 
You're welcome.
The Warriors coach isn't surprised that the president and LaVar Ball are in a war of words

We've got you covered for all the scores and highlights from Sunday's NBA games

Kyle Kuzma is tired of how his teammate Lonzo Ball is being treated
The Warriors used a huge third quarter to come back from a 23-point deficit to get the win

Three takeaways from Golden State's 24-point rally past the Sixers

Okafor has played only 25 minutes this season