NBA Finals: Chris Bosh, Dwyane Wade 'ready to go' for Game 1
Chris Bosh and Dwyane Wade are 'ready to go' for Thursday night's Game 1 of the NBA Finals, according to coach Erik Spoelstra at the Heat's morning's shootaround.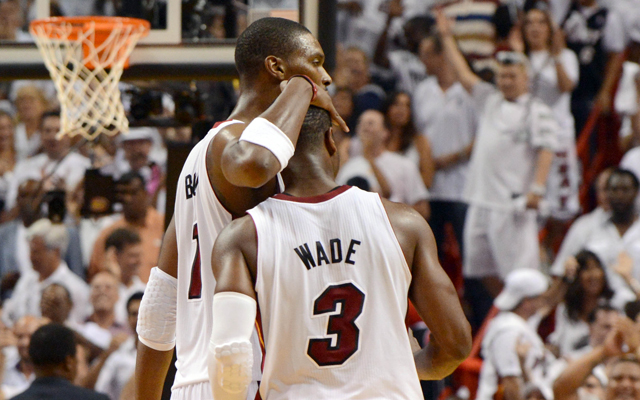 MIAMI -- Coach Erik Spoelstra said at the Heat's shootaround on Thursday morning that both Chris Bosh and Dwyane Wade are "ready to go" for Game 1 of the NBA Finals against the San Antonio Spurs. Bosh had been hampered by an ankle tweak that bothered him late in the Eastern finals, and Wade has been dealing with a deep knee bruise for several months that has left him significantly hampered. 
There's no indication of the condition of the injuries beyond the usual, "it's the playoffs, everyone's banged up." But Bosh and Wade both looked better at least in terms of their energy level for Game 7 against Indiana. With three days off since then, you have to assume there's a good chance they're in better condition, but Wade in particular hasn't been right for most of the season. 
So there's no limitation on two members of the triad, as far as the Heat are concerned, but how much they can give Miami might go a long way in determining who takes the first game of the series. 
Game 1 of the NBA Finals is at 9 p.m. ET Thursday. 
Durant recently apologized for tweets criticizing the Thunder and Billy Donovan

Jackson says he has 'no respect' for Durant after KD created fake Twitter pages

James is apparently motivated to help Rose, who signed a one-year deal with the Cavs this...
The NBA's Board of Governors will vote on the draft lottery reform proposal toward the end...

Here's a look at the several key questions heading into the first week of training camp

Signing Phoenix's qualifying offer will clear the big man to become an unrestricted free agent...