Nets hire Jason Kidd as head coach
The Brooklyn Nets have hired Jason Kidd as their head coach, reuniting the point guard with the franchise he saved once before.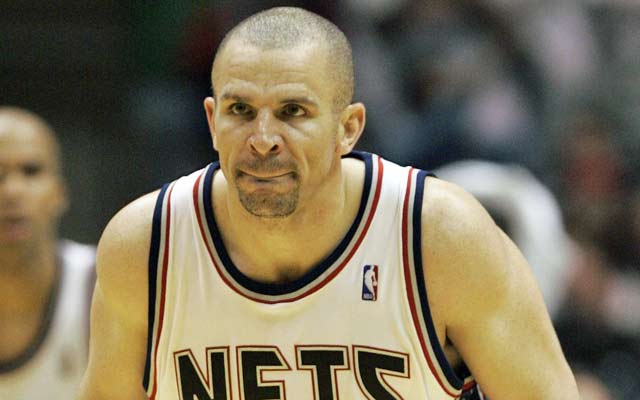 UPDATED 10:24 p.m. ET
In a leap of faith that reunites a Hall of Famer with the franchise he saved once before, the Nets have chosen Jason Kidd as their next head coach.
The Nets quickly agreed to contract details on Wednesday with Kidd, 40, who retired as a player only nine days ago. The Nets will have to surround Kidd, who led the franchise to consecutive NBA Finals as a player but who has no coaching experience, with a seasoned bench of assistants.
The job was offered to Kidd hours after team officials met for nearly five hours with the only other known candidate for the job, Pacers associate head coach Brian Shaw.
"It's a role I have been studying for over the course of my playing days," Kidd said in a statement released by the Nets.  "Championship teams are built on being prepared, playing unselfishly and being held accountable, and that's how I expect to coach this basketball team."
The Nets have had conversations about adding their former head coach, Lawrence Frank, to Kidd's staff, as well as longtime NBA assistant Dave Wohl, league sources told CBSSports.com. Wohl was a key member of the staff for three first-time head coaches: Ron Rothstein with Miami in 1988; Doc Rivers with the Magic in 2000; and Kurt Rambis with Minnesota in 2009. Wohl was head coach of the New Jersey Nets from 1985-87 and was part of two championship organizations: the '85 Lakers as an assistant coach and the '08 Celtics as assistant GM.
Kidd interviewed Monday and was said to have impressed Nets GM Billy King with his preparation and vision. Shaw, also in the running for the Clippers' head coaching vacancy, was impressive in his detailed preparation of how to gameplan for the other top teams in the East -- having actually done that as Frank Vogel's lead assistant in Indiana on the way to the Eastern Conference finals.
"Jason is a proven winner and leader with an incredible wealth of basketball knowledge and experience," King said. "This will be a natural transition for him to move into the role of head coach."
Nets owner Mikhail Prokhorov, going with name recognition and playing experience over coaching experience, said Kidd "has the fire in the belly we need and has achieved as a player everything the Brooklyn Nets are striving to achieve."
"We believe he will lead us there," Prokhorov said. "Welcome home, Jason."
The decision to go with Kidd was a high-risk, high-reward departure from the standard procedure of hiring coaches with at least assistant coaching experience. Kidd follows Mark Jackson, who was hired two years ago by Golden State without having been an assistant coach.
But Jackson had a long career as a broadcaster after his playing days were over. Kidd's playing days ended barely three weeks ago, when the Knicks were eliminated by Shaw's Pacers in the Eastern Conference semifinals.
How effectively Kidd walks that line between player and coach -- and how he handles the pressure with a roster that has been built to win now -- will create a fascinating dynamic as the Nets continue to establish a new identity in Brooklyn.
Kidd last put his stamp in the Nets in New Jersey, when the future Hall of Famer led the franchise to the NBA Finals in 2002 and 2003 under coach Byron Scott. Who would've predicted Kidd would be hired as a coach this summer before Scott, who was fired by the Cavaliers and is in the running for the Clippers' head coaching vacancy?
Previously, the Nets discussed the head coaching job with Phil Jackson but were told the 11-time champion coach was not interested in returning to the sideline. They also were denied permission to interview Rivers, whose future in Boston is up in the air, and had exploratory conversations with former Knicks coach Jeff Van Gundy.
The Blazers guard was a guest on the Sirius XM radio show 'Sway in the Morning'

L.A. reached a three-year jersey ad patch deal with Wish, a San Francisco-based e-commerce...

John Paxson doesn't intend to buy Wade out without some sort of compromise from the 3-time...
Lonzo's signature shoes have a sleek, all-black design and will be available in November

Durant recently apologized for tweets criticizing the Thunder and Billy Donovan

Jackson says he has 'no respect' for Durant after KD created fake Twitter pages