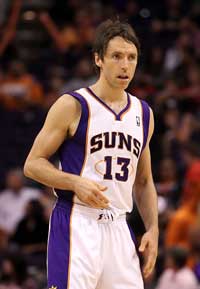 Steve Nash is going to be hearing from the Raptors. (Getty Images)
Steve Nash free agency update: Teams are interested in signing him.
New York, Miami, Dallas, Portland -- pretty much pick a team and you can figure out how Nash would fit well.
One team that's not being shy about it, though? The Toronto Raptors. Via ESPN.com, the Raptors have the 38-year-old Nash as their top free agency target.
Hearing Raptors want to park no less than a five-deep contingent in Manhattan to woo Nash as soon as allowed ... Raps president of basketball ops Bryan Colangelo wooed Nash same way in summer of 2004 ... and quickly convinced Nash to swap Dallas for Phoenix.
Obviously the hook is that Nash is Canadian, and his popularity in Canada is already off the charts. In fact, Nash is the general manager of Canada basketball.
The Raptors already have Jose Calderon, a quality point guard, but they could waive him with the amnesty clause, allowing the Raptors to offer Nash a large deal. To which fits what Nash said recently -- money still matters.
There's one small hitch in Toronto's plan to pursue Nash, though. The Raptors aren't very good. And while Nash has said winning a ring isn't the only thing he's focused on in finishing up his career, he's not interested in toiling away on a lottery team. He doesn't really want to be part of a major rebuild. If he did, he'd probably just re-up with the Suns and finish out there.
The Suns, though, might not even care too much to keep him, via the Arizona Republic:
The feeling around the NBA is that he has one foot out the door and nobody in the Phoenix organization is clinging to the other one trying to keep him here.
The Raptors can certainly make an interesting case to Nash and play to his hometown emotions. And if they could put together a roster somewhat resembling something of a playoff team, it could be enough.
Last season, Toronto went 23-43 and will return virtually the same roster. Their 2011 lottery pick Jonas Valanciunas could potentially join the team, but it will mostly be DeMar DeRozan, Andrea Bargnani, Amir Johnson, Ed Davis, new pick Terrence Ross and Calderon. Is adding Nash to that equation enough to make them a playoff team?
If anything, I guess we'd really have a chance to truly see how much better Nash makes average players.