Report: Bulls, Pau Gasol could be moving closer to summer breakup
Despite previous statements, Chicago is reportedly "softening its stance" on keeping Pau Gasol.
• 1 min read
Pau Gasol is 35 years old and approaching free agency in July. His team, the Chicago Bulls, are in danger of missing the playoffs after a massively disappointing regular season. Typically, you'd think the two sides were on the verge of a breakup, but Bulls general manager Gar Forman said after February's trade deadline that Gasol was "part of our core." 
According to the Chicago Tribune's K.C. Johnson, Chicago is now "softening on the public stance" that Forman put forth, and Gasol is "open-minded" about his future. This makes sense, so hooray for logic.
A few thoughts:
1) Gasol is in his 15th season. He didn't join the Bulls just because he likes the opera. The goal was always to compete for a championship, and that dream is all but officially dead. There will be better opportunities for him elsewhere -- both the San Antonio Spurs and Oklahoma City Thunder chased him a couple of summers ago.
2) The Bulls need to make some major changes, and it's probably best for them to let Gasol walk. Sure, he can fit into Fred Hoiberg's system and be productive in the next couple of years, but what's the point? If Chicago's title window is no longer open, then it needs to try to build around Jimmy Butler and other players around his age. Which brings us to ...
3) If Butler is indeed the Bulls' franchise player, then they need to put him in a position to be a leader. That likely means parting ways with Gasol, probably Joakim Noah and maybe even Derrick Rose. Think about what the Portland Trail Blazers did last summer: By going after a bunch of young role players with upside, they enabled Damian Lillard to become the unequivocal leader in the locker room. That would be a smart example to follow.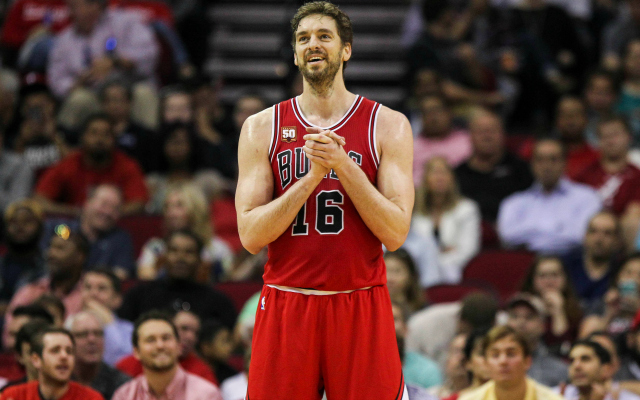 The Bucks All-Star exited Wednesday's game against the Clippers with a sprained ankle

A look at Houston, Golden State, Toronto, Boston and Cleveland as the playoffs approach

Duke's Marvin Bagley looks to go to the Suns with the No. 1 pick
The 76ers are streaking and they'll look to keep that up against the Magic

Also, remember all that talk about Lonzo Ball's improved shooting? So much for that

We have all the news, notes, scores and top plays from Wednesday in the NBA