Report: Cleveland Cavaliers trade Keith Bogans to Philadelphia 76ers
Just after acquiring wing Keith Bogans in a trade, the Cleveland Cavaliers are sending him to the Philadelphia 76ers to create a trade exception.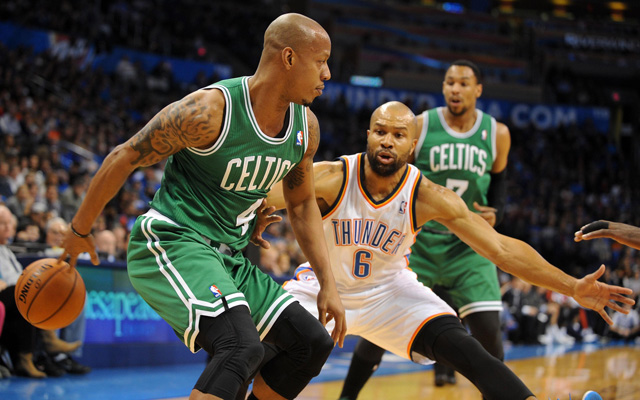 The Cleveland Cavaliers are getting very tricky with their finagling of the salary cap and their roster. After just sending several non-guaranteed players to the Boston Celtics in exchange for Keith Bogans, the Cavs are now moving him to the Philadelphia 76ers with a second round pick to create a $5.3 million trade exception, according to Marc Stein of ESPN.com.
ESPN sources say Cavs have agreed to trade newly acquired Keith Bogans to Philly

— Marc Stein (@ESPNSteinLine) September 27, 2014
Sources say Cavs will send a future second-round pick to Philly and create a $5.3 million trade exception in the process

— Marc Stein (@ESPNSteinLine) September 27, 2014
What this means for the Cavs, their roster, and their cap situation is they essentially get the same placeholder value that Bogans and his non-guaranteed contract would provide while not actually having to worry about the luxury tax or using up the roster spot in the process. By creating the trade exception in the amount of Bogans' contract, the Cavs will now have a year to use this to add a player to their roster, if one becomes available that they feel fits what they're trying to build.
Now the Cavs dip under the luxury tax line but still have all of the benefits of making a move with Bogans salary. For the Sixers, they start inching back toward that salary floor, but don't pay any more than they would have had to in the first place. They're still roughly $20 million under the salary cap and about $13 million away from the salary floor. If they don't reach that salary floor, they just divide the difference up amongst the players on their roster. 
LeBron's minutes are a common point of discussion this season

Kevin Garnett thinks a one-and-done rule change would benefit schools more than anything e...

The Warriors are light years ahead, but James Harden is off to a red-hot start with the Ro...
Victor Oladipo is playing the best basketball of his career, and it all came together against...

McCollum hurled a clever insult at the French forward

Hosts Bill Reiter and Reid Forgrave are joined by Blazers guard CJ McCollum