Report: JaVale McGee could miss the rest of the season
Nuggets center could miss entire season with fractured leg.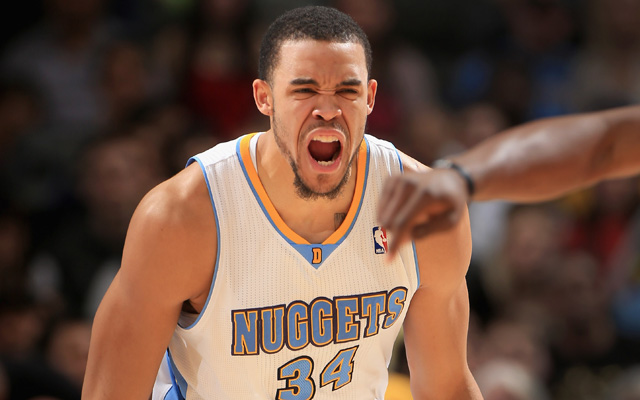 Yahoo Sports reports Nuggets center JaVale McGee could miss the remainder of the season with his fractured leg not having healed properly.
McGee has been out since November, and there have been rumblings in Denver that his approach to rehab has been less than inspirational. McGee has faced questions regarding his maturity going back to hs time in Washington. In 2012, the Nuggets re-signed McGee to a four-year, $44 million deal. 
The deal was done by then-GM Masai Ujiri in part to make sure that the Nuggets would still have his rights if he were to mature as expected. Many big men in the league don't reach their full potential defensively until they are 28. But McGee has never been consistent with his work habits or production. 
The injury compounds with other injury woes for the reconstructing Nuggets, who lost Danilo Gallinari to a second surgery on his injured knee in January, and Nate Robinson who suffered an ACL tear as well. With the three players out, expect the Nuggets to apply for the injury exception with the leaue. 
There's still a chance McGee could return this season, but for a team still trying to figure itself out under Brian Shaw and GM Tim Connelly, missing McGee could have lasting impacts. 
Popovich was upset about an out of bounds call

Wall went 3-for-12 from the field, and had just eight points in the Wizards' loss

Noah was reinstated from his 20-game suspension on Monday, but is yet to play for the Knic...
In his first season with the Cavs, Rose has not played since Nov. 7

Keep it right here for all your Friday NBA scores, updates and highlights

Russell has not played since injuring his knee against the Jazz on Nov. 11