Report: Mavericks interested in Andrew Bynum
The Mavericks reportedly have "legit" interest in center Andrew Bynum.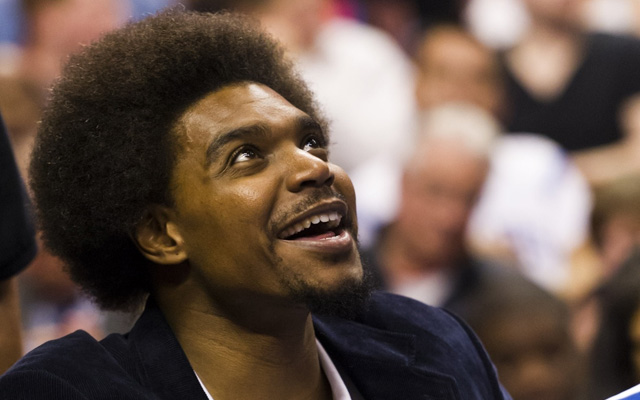 You knew someone was going to be desperate enough to go after Andrew Bynum, and apparently, that team is the Dallas Mavericks. ESPN reports that the Mavs' interest in the former Lakers (and Sixers, we guess?) big man is "legit," but that they will do a thorough investigation into Bynum's knee. 
On Friday, the Mavs reached an agreement on a four-year deal with Jose Calderon for $24 million. After missing out on Dwight Howard, it would appear the Mavericks are trying to find lightning in a bottle. There's really only two ways this goes.
Scenario 1. Bynum finally gets healthy after a year of bone bruises and sugeries, his fourth such year in his career, and returns to destroying opponents on both ends of the floor as one of the singularly dominant physical beings in the league. He's able to provide the perfect compliment to Dirk Nowitzki, a Pau Gasol upgrade, and, shockingly able to stay on the floor consistently, re-opens the Mavericks' championship window. Birds sing and the air smells sweeter to Mark Cuban. 
Scenario 2: 
Total destruction and chaos as Bynum once again collects a massive paycheck not to play. The Mavericks grow more and more frustrated with his lack of progress in rehab before finally trading or waiving him. Mark Cuban gets really sad for about ten seconds before remembering he's mark Cuban. 
So, you know, not a lot of options for ways this thing can go. But it's worth a shot, after the Mavericks swung out on Howard. They've got to do something with all that money, and tanking doesn't appear to be an option. The only issue is that they tried this piecemeal approach last year, and it fell apart. 
Rodman's agent says he is urging the ex-NBA star to check into rehab

The players and referees are working to fix a relationship that has recently been deterior...

The locker room heist is going to lead to plenty of fines and maybe some suspensions from the...
Larry Hartstein has his finger on the pulse of Boston basketball and locked in a pick for...

The always consistent Spurs take on the rebuilding Lakers in a national TV contest.

The lack of urgency from the front office has some players doubting their chances of reaching...