Report: Orlando Magic agree to buyout with Glen Davis
The Orlando Magic have reportedly agreed to a buyout with power forward Glen Davis.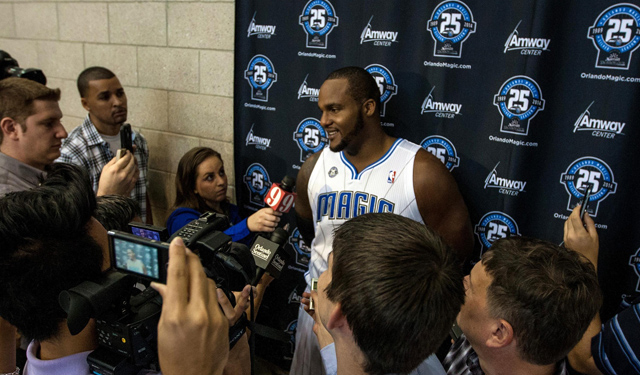 It wasn't all that long ago that the Orlando Magic agreed to a sign-and-trade to bring Glen Davis to the team in order to try to entice Dwight Howard to want to stay with the organization. Davis was one of the guys Howard wanted surrounding him as they tried to figure out how to get back to the NBA Finals. Not too long after, Howard was traded to the Los Angeles Lakers, and the Magic went into rebuilding mode.
After failing to find a trade to unload Davis and his deal running through 2014-15, it looks like the Magic have decided to part ways with him in another manner. Yahoo Sports is reporting that the Magic and Davis have agreed to a buyout that will likely make the big man an unrestricted free agent in 48 hours. A team could pick up Davis on the waiver wire but it's unlikely anybody would absorb his contract.
The Orlando Magic have reached an agreement on a contract buyout with forward Glen "Big Baby" Davis, sources told Yahoo Sports.

The Magic tried hard to move Davis before Thursday's trade deadline but were unable to find a deal to unload him. The Los Angeles Clippers are the frontrunners to sign Davis, league sources said. Clippers GM and coach Doc Rivers coached Davis with the Boston Celtics and had discussions with Orlando in recent days about acquiring him. The Brooklyn Nets, who like the Clippers are searching for a backup big man, have signifcant interest in Davis too, league sources said. Also interested, according to one of the sources, are the Miami Heat, San Antonio Spurs and Golden State Warriors.
Davis makes $6.4 million this season and is scheduled to make $6.6 million next season. He's averaging 12.1 points and 6.3 rebounds this season while shooting 45.3 percent from the field. He played in just 34 games for the Magic last season, due to a foot injury he suffered during the season.
Reuniting with Doc Rivers in Los Angeles could be a possibility with them needing another big man for their rotation. The Miami Heat also cleared a roster spot before the trade deadline when they moved Roger Mason to the Sacramento Kings.
Trump rescinded Curry's invitation to the White House after Curry said he wasn't interested...

Silver said he was hoping Warriors would get chance to share their views directly with the...

Along with the Thunder, those were the three teams most involved in the Anthony trade talk...
LeBron said he was frustrated by the President's recent actions

A look at the various actors and elements in the latest sensational blockbuster trade in the...

Blockbuster deal doesn't change the Thunder's projected finish in the West