Russell Westbrook, Kevin Durant outplay Clippers' stars in Game 2
Chris Paul dominated Game 1, but he and Blake Griffin were outdone by their OKC counterparts on Thursday.
• 2 min read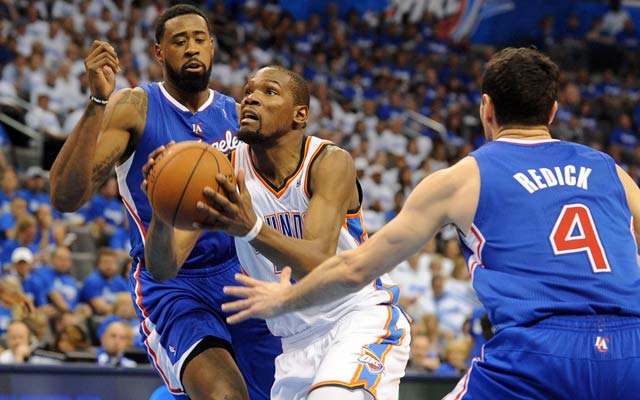 More postseason coverage: Playoff schedule, results | Latest news, notes
Russell Westbrook and Kevin Durant almost made history on Wednesday. No pair of teammates have ever produced triple doubles in the same playoff game, and the two Oklahoma City Thunder superstars came rather close. Westbrook had 31 points, 10 rebounds and 10 assists — though the last one was in absolutely no way legitimate questionable — and Durant had 32, 12 and nine in the Thunder's 112-101 victory. They were both dominant, a word that cannot be used to describe their Los Angeles Clippers counterparts in Game 2.
Chris Paul started the series with an otherworldly 32-point, 10-assist masterpiece on Monday, shooting 12 for 14 from the field and 8 for 9 from the 3-point line. He followed that up with 17 points and 11 assists, which is fine, but not enough when Oklahoma City is clicking and his co-star can't get going. Blake Griffin wound up with only 15 points and six rebounds, bothered by the Thunder's Serge Ibaka defensively.
Westbrook and Durant took 22 shots apiece, and together they carried a balanced offense. The point guard piled up his points by completely eschewing the midrange game. He drove, he posted up and he was as physical as possible.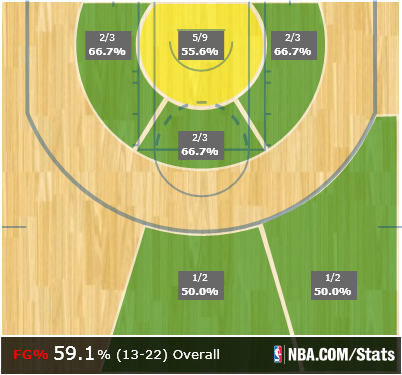 Oklahoma City coach Scott Brooks said at the podium that Westbrook set the tone. Following Game 1, he had talked about his team making Los Angeles feel them. Clippers head coach Doc Rivers said that the Thunder players did exactly what their head coach asked. It started with Westbrook, who would not be denied.
"I think Russ probably played harder than all of us combined," Paul said. "He was all over the place."
Durant's 10-for-22 shot chart wasn't quite as pretty, but Rivers lamented the way his team let him get inside. The newly named MVP made nine of his 11 free-throw attempts.
"I didn't like how they scored," Rivers said. "It was too easy. I just thought we had way too many mental defensive breakdowns."
Paul shot efficiently and distributed well, but could not create looks as good as he did in Game 1 for himself or his teammates. Brooks heaped praise on Westbrook's defense against the Clippers' floor general more than he did his offensive output. 
"Those guys are good, especially Chris when he gets space and finds his teammates and gets them involved," Westbrook said. "My job is to be able to defend it."
While Griffin is one of the league's best finishers, he got almost nothing easy this time. He made two of his five field goal attempts at the rim, and three of his eight away from it.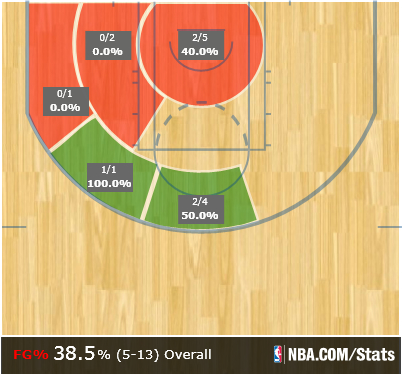 Griffin has developed into a respectable midrange shooter, but he's much more effective when he's putting pressure on the defense. If the Clippers are going to bounce back in Game 3, he'll need to assert himself.
It's reductive to say this series is as simple as two stars against two others — the unexpected contributions of Thabo Sefolosha and the ineffectiveness of DeAndre Jordan, for example, were significant in Oklahoma City's win — but sometimes that's the story. The Thunder duo were transcendent on Wednesday, just as Paul and Griffin have been on other nights. Heading home, it's on the Clippers to make sure things are different next time.
Beverley handcuffed Lonzo on the court, and the emotion carried into the locker room

Ball's eagerly awaited first NBA game didn't go the way Laker fans hoped

Griffin can still hand out posters with the best of them
The Knicks forward is a bucket-getter in the truest sense of the term

On the TNT broadcast, even Shaq finally admitted that he likes Joel Embiid's game

The Warriors new Nike classic uniforms will be revealed Thursday