Steve Nash on Stephen Curry: 'He's taken what I did to another level'
Future Hall of Famer Steve Nash helped put Stephen Curry into historical context.
• 2 min read
When Steve Nash talks about Stephen Curry, you listen. Nash is the closest stylistic analog for Curry, and Curry has been one of Nash's favorite players to watch for a while. The two have been compared for years, and Curry grew up emulating Nash. Now, as a player development consultant for the Golden State Warriors, Nash is working with Curry.
The future Hall of Famer put Curry's dominance into historical context in a conversation with the San Jose Mercury News' Tim Kawakami:
-Q: Is it fair to say that Curry is becoming maybe one of the top 10 players of all-time? Can we say that?

-NASH: I don't have a problem with it. To me, growing up, my hero, other than Michael Jordan, was Isiah Thomas.

But in some ways I wish I was a 13 year old starting to play basketball for the first time so I could grow up watching him play and emulating him. That'd be pretty powerful.

You know, I hope my son likes basketball. (Matteo is five.)

-Q: So Curry could be a transformative figure maybe the way Bird and Magic brought in that level of passing, then Jordan with above the rim, then maybe you and Jason Kidd with a different kind of point-guard play? Do you see this happening now?

-NASH: It's the evolution of the game. We're seeing someone… I hate to put myself in this statement, but he's taken what I did to another level.

I mean, the ability to find openings, to shoot going right or left, off one leg, either side of the rim, with the range, the variety… he's doing things I never did.

The game's evolving… and it's a beautiful thing because it's about skill and dedication, commitment and inspiring a whole generation.

It's awesome to see. And think it'll be fascinating to see what the next evolution will be because of Steph.
Nash is one of Curry's biggest basketball influences, so I hope someone tells the reigning MVP that the two-time MVP wishes he got to emulate him as a kid. The whole thing is well worth your time, and Nash also explains the differences between the two of them -- Nash did some of the same things as Curry, but his mentality was different because he was a point guard for his whole life and was always extremely mindful of getting everybody else involved.
Curry being the most dangerous player in the NBA is the most obvious example of how the game has changed. His 3-point shooting is unprecedented and his skillset is unmatched. Having Nash on the Warriors' staff is special because it's extremely rare for a superstar to wind up working with his evolutionary predecessor. 
It's also nice to hear a retired player say he would like to be growing up watching today's players. The whole "things were better in my day" thing is getting, well, old.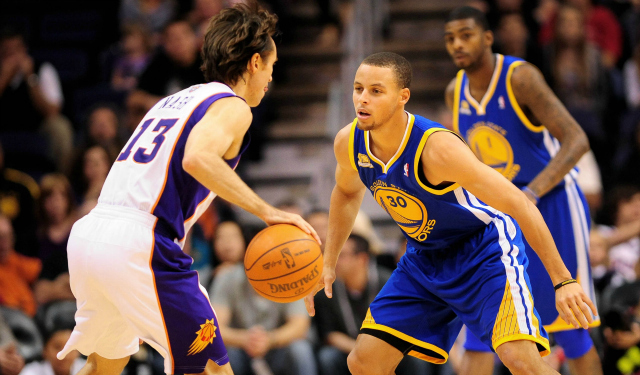 CBS Sports HQ Daily Newsletter
Get the best highlights and stories - yeah, just the good stuff handpicked by our team to start your day.
Please check the opt-in box to acknowledge that you would like to subscribe.
Thanks for signing up!
Keep an eye on your inbox for the latest sports news.
Sorry!
There was an error processing your subscription.
The national team for Puerto Rico says Melo has an open invite to join

Steve Kerr is making sure his volatile All-Star and his sprained toe get some additional r...

Saturday's 10-game slate features Boston trying to stay hot against a struggling Utah team
Boston and Utah face off with both playing on back-to-back nights

Embiid says the hand he banged up early in Friday's game has been an ongoing issue since spraining...

The retired 76ers star, who played with Anthony in Denver, says Melo 'should keep going' and...