The 4-Point Play 3.28.13: The Dwight principles
A look at how Dwight Howard's defensive effort has to improve for the Lakers to make a playoff push.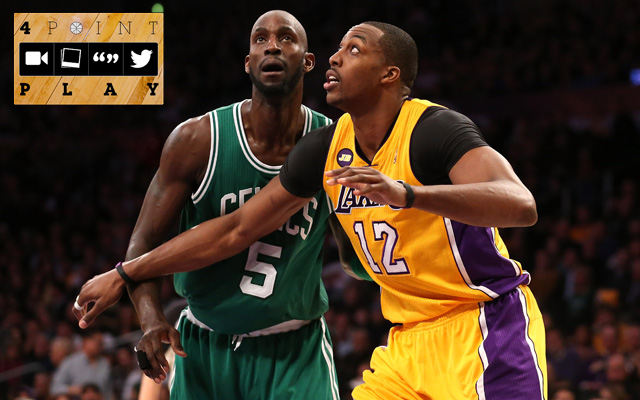 The Lakers looked for a while like they had turned the corner. They were playing with genuine energy and enthusiasm, and getting results. Since Jan. 25, following a team meeting after a loss to the Memphis Grizzlies, the Lakers are 20-10.
But after a recent swoon that they barely managed to stop Wednesday night with a win over the Timberwolves (on a non-call on a Kobe Bryant foul on Ricky Rubio), there are obviously still some issues, particularly on the defensive end. Going into an important game on a back-to-back Thursday night against Milwaukee, against two talented guards, the Lakers need to contain the pick-and-roll.
And that falls almost entirely on Dwight Howard.
Howard has been a mystery this season. He's clearly not healthy but hasn't sat down for a long stretch. He'll play like the all-star and Defensive Player of the Year, then turn around and disappear. It's maddening to watch and the biggest part of the Lakers' issues.
Don't get me wrong: Howard is still their best defender. Their perimeter defenders are an absolute mess, and Howard is forced to cover for their many defensive mistakes. And, in the pick-and-roll in particular, there have been ... problems.

The odd thing has been that Howard habitually is getting into his stance on the pick-and-roll to guard the drive or contest the jumper ... and then just waiting. This is the biggest thing that makes you think he must be hurt. It seems that Howard wants to contest; he simply can't extend to the level that he wants.
You'll see there, he has time to close on the jumper or contest the drive, and he just doesn't do it.
Now, this isn't a constant issue with Howard. Check out how he picks up Devin Harris here and, despite not committing to a great contest, manages to maintain position without fouling and force the miss.
Also, Harris is pretty hilarious there.
Similarly, Howard does a great job of committing in space, forcing a tough step-back.
But then, we've also got plays like this. Howard's in position for the chase-down block that he has made dozens of times in his career and just ...
That's not a devastatingly fast move, and he's there; he just can't cover the ground.
But those problems can be attributed to an injury. And that's understandable. But plays like these, however:
That's just miserable effort. That's a total failure to commit defensively, to give any sort of effort. In a normal year for Howard, you'd see these plays once every couple of games. I found an alarming number of them when I went back and watched the video.
The Lakers' problems go well beyond Howard. But the team will improve only if Howard is phenomenal. That's how important he is to them in terms of talent and position. It's hard to demand that Kobe cover better at his age given his offensive output, or to ask Antawn Jamison to suddenly be a great defender. But Howard has that potential, and he's going to have to give it nightly for the Lakers to secure a playoff spot, and that starts Thursday night against Milwaukee.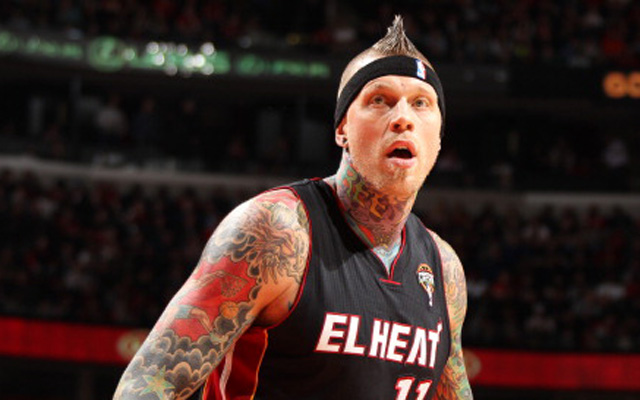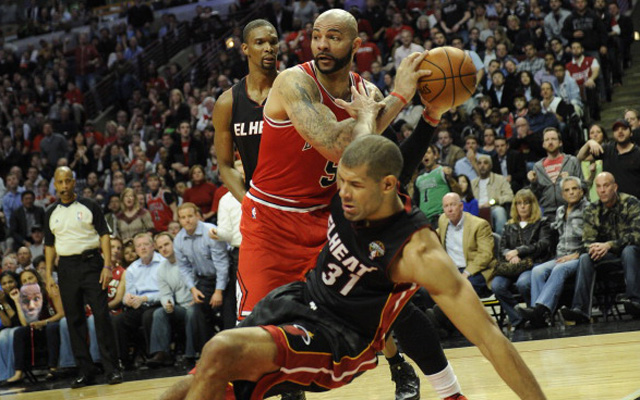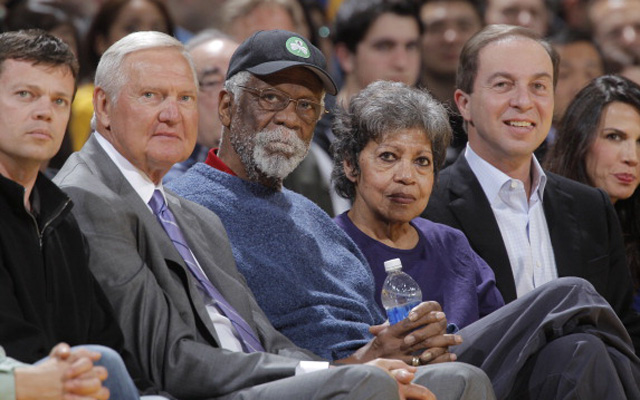 "The focus at meetings, the focus at shootarounds, the efforts are a lot different. You can play 31 minutes on a bad team, and they can live with turnovers. They can live with bad shots. It's a mindset that you have to develop.
"Change the work ethic. You have to work hard, all the time. You can't improve if your work ethic is like this. But if you come in every day and work every day, then we can work on your skill level.
"Most of these kids come through the AAU system -- they don't understand how hard you have to play and how much you have to sacrifice to win. They play on all-star teams and beat teams by 40, and there's no real resistance. Then they come to the NBA.
"Sell them on working hard and then showing them, teaching them what it takes to win." -- Grizzlies coach Lionel Hollins, on teaching a young team how to win and win consistently
"I don't see any All-Stars in this locker room," (Brandon Jennings) said.

"I think that everyone should be held accountable," he said. "There's no maxed-out players in this locker room. So don't try to put me on a pedestal and just give everyone else the freedom to do whatever they want."
via Jennings sits as Bucks slip: Basketball.

DH12 is picked for free throws after a teammate gets ejected. He makes both, and lets Scott...

Bell was injured defending a Robin Lopez dunk and had to be taken off the floor in a wheel...

Trevor Ariza and Gerald Green are reportedly both suspended two games
We've got all the scores, highlights and news from the night's games

Jonah Keri talks with NFL and NBA broadcaster Ian Eagle

SportsLine simulated Wednesday's Nuggets-Clippers game 10,000 times