Attitudes about possible gay teammates seem to be shifting
Although there hasn't been an athlete in this country's major pro sports that has come out of the closest, NFLers like Robert Griffin III, Trent Richardson and Ahman Green say they wouldn't have a problem with a gay teammate.
• 2 min read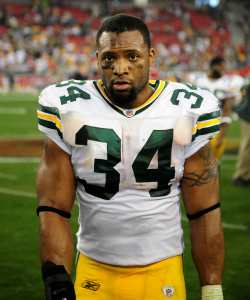 Green said he has a gay brother and a lesbian sister and calls himself 'open-minded.' (US Presswire)
For so many years, the thought of a gay man coming out to his teammates and the public in a professional sports locker room was hard to imagine. Those ballplayers who have said they are gay only did so after they were retired, and we're still waiting for the time when a gay man finds the unbelievable courage it will take to come out of the closet when he's still putting on a uniform.
And while we have some athletes who still say they don't want gay men as teammates or who make homophobic jokes on Twitter, a number of football players last week told
Outsports
say they would support a gay teammate.
Some were rookies, and some were retired players. And while those supportive players might still remain in the minority, it's worth noting that opinions are beginning to shift.
As Outsports writes, it met with a dozen players recently at an NFLPA rookie event, and "we were met with a gay-positive attitude from every player we talked to; And some warmly welcomed us with open arms. … Many shared personal experiences involving gay friends, family members, and even a gay former teammate. These aren't third-stringers we talked to. These men are
NFL
stats leaders, national champions and high draft picks. They are the past, present and future leaders of the NFL."
Included among them are
Redskins
rookie quarterback
Robert Griffin
III, Browns rookie running back Trent Richardson and Colts rookie tight end Coby Fleener. Also, former NFLers Jevon Kearse, Ahman Green and Eddie George voiced their support.
"In the game of football, it's like a war out there," Kearse said. "Once you get out on the field, all that stuff is to the side. You're on my side. I played in the NFL for 11 years, I'm sure there were at least one or two guys along the line that were gay."
Probably more than one or two guys, but you get his point.
In the course of talking to the gay-friendly website, Green --
still hoping to make an NFL comeback
-- revealed that his brother is gay and his sister is a lesbian.
"The gay community is just like everybody else, but they're treated differently," Green said. "It's a double standard. If a guy was, he wouldn't come out while he was playing. He knows the possibility of the scrutiny he might face from the locker room, which would be unfair. I am very open-minded. It is what it is. People are born that way. You can't control it. Just like you're white, I'm black. But a lot of people don't think my way. I wish they did, because then there wouldn't be guys who wanted to stay hidden."
For more NFL news, rumors and analysis, follow @EyeOnNFL on Twitter, and subscribe to our Pick-6 Podcast and NFL newsletter. You can follow Josh Katzowitz on Twitter here: @joshkatzowitz.
Jonathan Martin's old high school was forced to close on Friday after he appeared to threaten...

It doesn't look like the Jaguars will be making any front office changes anytime soon
The Buccaneers quarterback received a citation after causing a car wreck February 13

It's time for NFL teams to get creative and here's some moves to make it possible

It's a nice gesture for the players to recognize the coaches that put them in position to...