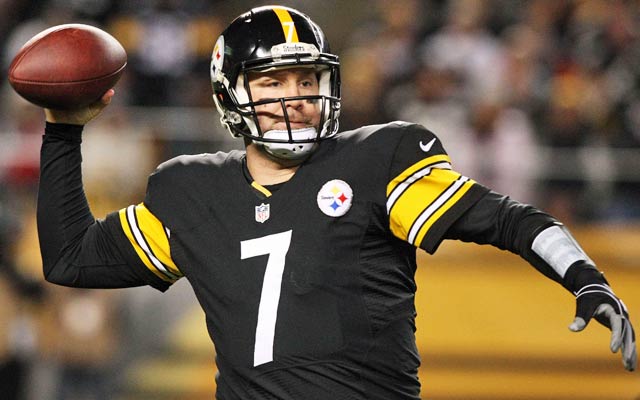 Ben Roethlisberger has eclipsed several of the all-time benchmarks for quarterback earnings with his new deal with the Steelers.
According to the agreement,  the Pro Bowl quarterback  will make a maximum of $108M over the next five seasons, with some difficult incentives, while earning a base of $99M in that span. He was previously due $11.6M by the Steelers in 2015 under his old deal, and this will mean roughly $87M in new money in this contact.
Roethlisberger has $60.75M guaranteed at the time of signing, and, as a practical matter, is all but guaranteed of making $65M over the first three years of the deal. That is a new precedent in that key contract barometer, because in this day and age it is almost certain that a restructuring or new contract will be coming after those initial three years. It is a primary metric among teams and agents and one that puts Roethlisberger, who has posted the best statistical seasons of his career under offensive coordinator Todd Haley, among the most highly compensated ever, which should not be a surprise for a two-time Super Bowl winner still very much in his prime
The move is a win/win for both sides and comes at a time when many quarterbacks in need of an extension -- and the teams who need to extend them -- have been wary about setting a new precedent in the marketplace and are taking their time. This contract came together quickly and puts Roethlisberger squarely among the highest paid in the game -- a group of $20-plus million a year quarterbacks that already includes Aaron Rodgers, Drew Brees, Joe Flacco and Matt Ryan. With Roethlisberger's fellow draft class QBs -- Eli Manning and Philip Rivers -- entering the final year of their deals, and with youngsters Andrew Luck, Cam Netwon and Russell Wilson becoming eligible for new deals, this agreement comes at a pivotal time to help establish new market values and should serve as a springboard in future negotiations around the league.
It also sets Roethlisberger up to be a Steeler for life – which was never in doubt between him of the franchise – and greatly eclipses his former deal, which averages $14.7M a season.  
Here is how the deal ranks among the other biggest quarterback deals in the NFL, in major parameters:
How Big Ben stacks up to top QB deals
Annual average (new money added to deal)
Guarantee at signing
First 3 yrs. earnings
Aaron Rodgers: $22 million
Roethlisberger: $60.75M
Roethlisberger: $65M
Ben Roethlisberger: $21.9 million
Brees: $60.5M
Ryan: $63M
Matt Ryan: $20.75 million
Ryan: $59M
Rodgers: $62.5M
Joe Flacco: $20.1 million
Rodgers: $53M
Flacco: $62M
Drew Brees: $20 million
Flacco: $51M
Brees: $61M
The deal will save the Steelers, who have been in a cap crunch, a little over $1M in cap space in 2015, but this deal is about much, much more than that. It secures one of the greatest players in the history of the storied franchise for the totality of his career, and allows the franchise to align its budgets and spending for years to come.